Home

>
Journal, 1832–1834
Source Note

JS, "Joseph Smith Jrs Book for Record," Journal, Nov. 1832–Dec. 1834; handwriting of , JS, , , , , and six unidentified scribes; ninety-three pages; JS Collection, CHL. Includes redactions, use marks, and archival marking.

Pocket-size memorandum book, 5⅞ × 3¾ × ¼ inches (15 × 10 × 1 cm). The text block consists of fifty-four leaves measuring 5⅞ × 3⅝ inches (15 × 9 cm). There are four gatherings of six sheets each of ledger paper. Each sheet is folded so that each gathering has twelve leaves (twenty-four pages). These pages are ruled with sixteen blue horizontal lines—now almost entirely faded—as well as with red vertical lines for recording financial information. The endpapers consist of pastedowns on the inside covers and two free flyleaves in both the front and back. The gatherings are sewn all along on sawn-in cords. The front and back covers of the journal are pasteboard. The ledger has a tight-back case binding with a black calfskin quarter-leather binding. The outside covers are adorned in Schrottel marbled paper, with gray body and veins of black and blue. The volume originally had three leather loops—two in the back and one in the front—that were tipped in between the inside covers and the pastedowns. The former presence of the front cover loop, no longer extant, is evident from creasing and staining on the pastedown, which is now detached. The leather loops and their spacing allowed for the book to be fastened by inserting a pencil between all three loops. The vibrant blue veins and the grain of the marbling, now greatly diminished by water damage, are also visible under the now-loose front pastedown.

JS wrote "Joseph Smith

1832.<​3–4​>

" on the front cover in brown ink. On the front pastedown, "Joseph Smith" is written sideways, running upward near the bottom of the outer edge. Also, "Joseph" is written sideways, running downward, near the top of the inside of the same page. The handwriting of these inscriptions has not been identified. The journal entries begin on the recto of the second leaf (the first flyleaf) and end on the recto of the back pastedown, making 105 numbered pages. Regular journal entries, inscribed in various shades of brown ink, continue through page 93. Pages 94 to 102 are blank except for page 98, which has JS's name in graphite pencil at the top in JS's handwriting. Pages 103–105 record subscriptions, which were evidently solicited during JS's 26 February–28 March 1834 mission, as well as a note apparently inscribed on 20 April 1834 in preparation for the conference held 20–21 April 1834 at , Ohio. The book has suffered from water and mud damage, evidenced in part by some extremely faded ink on page 2. Glue from tipping in a damaged leaf has also obscured several characters in the gutter of page 2.

The journal's textual redactions and use marks, in graphite pencil, were made by later scribes who used the journal to produce the multivolume manuscript history of the church. This occurred in , Illinois, indicating the journal remained in JS's possession. The journal is listed in Nauvoo and early Utah inventories of church records, indicating continuous custody.

Footnotes

1

"Schedule of Church Records. Nauvoo 1846," [1]; Historian's Office, [7] "Historian's Office Catalogue," Catalogs and Inventories, 1846–1904, CHL; Johnson, Register of the Joseph Smith Collection, 7.  

Historian's Office. Catalogs and Inventories, 1846–1904. CHL. CR 100 130.

Johnson, Jeffery O. Register of the Joseph Smith Collection in the Church Archives, the Church of Jesus Christ of Latter-day Saints. Salt Lake City: Historical Department of the Church of Jesus Christ of Latter-day Saints, 1973.

Historical Introduction

By late November 1832, when this record began, JS had resided in for nearly two years. Most members of the fledgling church in had migrated to Ohio in spring 1831; many had subsequently moved on to , Missouri, where they sought to establish a latter-day Zion. As headquarters for the church, , Ohio, served as a base for proselytizing missions ranging as far afield as Upper Canada (now Ontario) and the eastern United States. Meanwhile, attempts to create historical records had failed to keep pace with the development of the church. JS had recently prepared a six-page personal history. Now he began keeping a personal journal, documenting his experiences as they occurred and thereby paving the way for writing a more extensive history. Journal writing was a new genre for JS, and in this record, he employed a personal tone quite different from the prophetic voice of his scriptural translations and revelations.

JS's first journal begins 27 November 1832 and ends 5 December 1834, with entries spread unevenly over this period of just over two years. After titling this journal "Joseph Smith Jrs Book for Record," JS recorded his ambitious intention "to keep a minute acount of all things that come under my obsevation &c." However, reality failed to match his expectations. From the outset, the level of detail JS preserved in this record was limited. His pattern of journalizing varied widely. After recording only nine more entries, JS abandoned journal keeping for ten months. Yet his original aspiration to keep a journal occasionally yielded significant information. Sporadic notations followed, with three instances of sustained writing covering a consecutive week or more in the remainder of the journal. The events described in these passages are a proselytizing mission to Canada in October 1833, a fund-raising and recruitment mission to Pennsylvania and in March 1834 to prepare for an expedition to help the Mormons in , and activities in in April 1834 just before the expedition departed. The journal's most consistent daily entries cover the period from late February to late April 1834. The entire two-year record contains fewer than one hundred entries. It skips over many key developments but provides rare glimpses into the lives of JS and the other leaders of the church during these formative years.

Despite its brevity, this first journal contains more of JS's handwriting than do any of his other journals. Almost half of the entries in the journal were written either entirely or primarily by JS himself; some of the remainder were apparently dictated. His openly expressed hopes and concerns, prayers and blessings, and observations on his own state of mind are a rich source of insight into spiritual and emotional dimensions of JS's personality.

This journal illustrates how closely leadership in the early church was intertwined with record keeping. Trusted associates who served as scribes for JS for key projects in the earliest years soon found themselves called to join JS in church leadership, with continued scribal responsibilities. , primary scribe for JS's Book of Mormon translation, served as second elder beginning in April 1830 and wrote some of the entries for this first journal. , scribe for JS's "translation," or revision, of the Bible beginning in December 1830, served as a counselor to JS beginning in March 1832 and also wrote entries in this journal. , a scribe for JS beginning 20 July 1832 and a counselor to JS by January 1833, recorded JS's concluding revisions to the Bible from July 1832 to July 1833 as well as some entries beginning in November 1833 in this journal. Some of the journal's most revealing moments are JS's candid evaluations of associates Cowdery, Rigdon, and Williams in connection with blessings he pronounced upon them in November and December 1833.

The journal's first ten entries, covering 27 November to 6 December 1832 and all written in JS's handwriting, describe a trip to visit family, a happy return, receipt of a new revelation, and translation work. JS's state of mind is apparent in phrases such as "my mind is calm and serene," "found all well to the Joy and satisfaction of my soul on my return," and "Oh Lord deliver thy servent out of temtations." Yet the seemingly unhurried introspection of these first entries gives way to ten months of silence, a period during which JS became increasingly caught up in church leadership activities.

Revelation persistently nudged JS and his fellow believers toward building communities with a central focus on education and spiritual empowerment. In late December 1832, less than four weeks after this journal lapsed into silence, a new revelation called for a "solemn assembly" of the lay ministry, amplifying a promise in a revelation of January 1831 that in the Latter-day Saints would be "endowed with power from on high." In preparation for this experience, they were to receive training in spiritual and temporal affairs and a ritual "washing of feet" in a "house of God." A "School of the Prophets" began in January 1833, and in April land was purchased on which to build a structure that would be called the . A subsequent revelation called for the Saints to use this temple as the central reference point around which to develop a substantial community to be known as "the city of the stake of Zion." As for Zion itself, on 25 June 1833 JS and his associates sent plans to church leaders in , Missouri, envisioning the purchase of new lands and the expansion of Mormon settlement there, building outward from a cluster of centrally located temples.

But by the time the plans arrived in , Zion's future looked bleak. Negotiations in mid-July between Mormon settlers and their unwilling neighbors broke down, and violence erupted. With the 9 August 1833 arrival of in from , JS learned for the first time that twelve hundred Jackson County Saints would be forced from their homes by spring 1834. JS dispatched and to Missouri to advise the Saints.

When journal keeping resumed on 4 October 1833, much had changed for JS and his followers. The impending eviction of the Latter-day Saints and construction of the in loom in the background of subsequent journal entries. In October 1833, JS and responded to a request from , a Mormon visiting from , to join him in proselytizing family members in Canada. JS and Rigdon recorded in this journal their monthlong trip. Three weeks after their return, the journal first mentions explicitly the Saints' difficulties: JS learned on 25 November 1833 of the vigilante expulsion of the Mormons in Jackson County that month—earlier than the agreed-upon departure—following a series of violent confrontations. Many crossed the and found temporary refuge in nearby .

Most of the subsequent entries of this journal involve either direct or indirect responses to the problems. By December 1833, the Latter-day Saints had set up a printing press in to resume publication efforts that had been halted by the destruction of their print shop in Missouri. A February 1834 revelation instructed the Saints to undertake a paramilitary expedition intended to help the Mormon refugees from return to their homes. JS and were one of four pairs of men directed to travel from Kirtland to various locations to solicit volunteers and donations in support of the effort. Journal entries cover the monthlong trip of JS and Pratt through northeastern Pennsylvania and western . JS returned from this mission at the end of March, just in time for the opening of a term of the Court of Common Pleas. There he testified in a trial against , an excommunicant who had threatened his life. Following the trial, JS spent the rest of April preparing for the march to Missouri, which commenced in early May.

JS made no journal entries during the expedition to . The episode is manifest in the journal as a half page of blank space, almost as if he intended to reserve the space for an entry later on. Although Missouri governor acknowledged the legal right of the Mormons to their property, he would not intervene. Based on statements by Dunklin's attorney general, Robert Wells, the Mormons mistakenly assumed that Dunklin was willing to commit state militia to escort them back to Jackson County, and the expedition—known as the "Camp of Israel" and later as "Zion's Camp"—marched with that expectation. As the little army of Mormons neared Missouri, tensions mounted, and Dunklin sought a compromise. But negotiations between the Mormons and their former neighbors in Jackson County failed to resolve major issues that prevented the Mormons' return to their Zion.

The volunteers thus halted near the border of , short of their intended destination. A revelation dated 22 June 1834 counseled the Latter-day Saints to prepare themselves more thoroughly and declared that the redemption of Zion must await their empowerment in the at . The revelation also directed them to continue to purchase lands in the vicinity of Jackson County. Members of the expedition distributed food and supplies to the refugee Mormons living in nearby , and JS strengthened local church leadership by appointing a presidency and a "high council" consisting of twelve men. Meanwhile, about sixty-eight of the volunteers, including JS, contracted cholera; thirteen died. After the cholera abated at the end of June, the surviving members were discharged and the expedition officially ended, having failed in its ostensible mission. In early August, JS returned to Kirtland amidst criticism about the expedition. There he faced two heavy financial challenges: to purchase new lands in and to finish construction of the House of the Lord in Kirtland.

Footnotes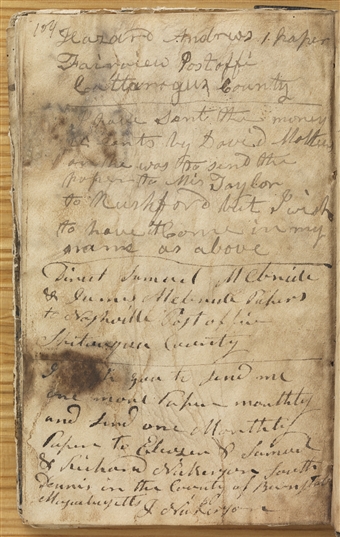 1 paper Cattara[u]gus County
I have sent the money 25 cents by David Mo
◊◊◊◊◊
an[d] he was to send the paper to Mis Taylor to but I wish to have it come in my name as above
Direct Samuel Mcbride & James Mcbride Papers to Nashville Postoffice Shitauqua [Chautauque] County
I wish you to send me one more Paper monthly and send one Monthly Paper to & Samuel & Richard Nickerson in the County of Barnstable Masachusetts
[p. 104]
, 1 paper, , Cattaraugus County.
I have sent the money, 25 cents, by David Mathews, and he was to send the paper to Miss Taylor to , but I wish to have it come in my name as above.
Direct Samuel McBride and James McBride's papers to Nashville post office, Chautauque County.
I wish you to send me one more paper monthly and send one monthly paper to and Samuel and Richard Nickerson, in the County of Barnstable, Massachusetts.
[p. 104]