Home

>
Letter to Justin Butterfield, 16 January 1843
Source Note

, agent, on behalf of JS, Letter, , Hancock Co., IL, to , [, Sangamon Co., IL], 16 Jan. 1843. Featured version copied [ca. 16 Jan. 1843]; handwriting of ; three pages; Newel K. Whitney, Papers, BYU. Includes docket and archival marking.

Bifolium measuring 10 × 7⅞ inches (25 × 20 cm) when folded. It is ruled with twenty-six lines printed in brown ink that are slightly slanted on the page and now heavily faded. The upper left corner of the first recto is embossed with a circular stamp, now illegible. The letter was folded twice horizontally and docketed for filing. Water damage has resulted in faded text along fold lines.

The document was docketed by , who inscribed the letter and served as JS's scribe from 1842 to 1844. The docket reads, "Copy of a letter to Esq

r

|

dated Jan

y

16 1843

." In late 1844, following JS's death, became one of the interim church trustees and was appointed "first bishop" among other bishops. It was presumably during this time that many of the church's financial and other administrative records passed into his possession. This document, along with many other personal and institutional documents that Whitney kept, was inherited by Newel K. and 's daughter Mary Jane Whitney, who was married to Isaac Groo. The documents were passed down within the Groo family. Between 1969 and 1974, the Groo family donated their collection of Newel K. Whitney's papers to the J. Reuben Clark Library (renamed Harold B. Lee Library in 1973) at Brigham Young University.

Footnotes

1

JS, Journal, 29 June 1842; "Clayton, William," in Jenson, Latter-day Saint Biographical Encyclopedia, 1:718.  

Jenson, Andrew. Latter-day Saint Biographical Encyclopedia: A Compilation of Biographical Sketches of Prominent Men and Women in the Church of Jesus Christ of Latter-day Saints. 4 vols. Salt Lake City: Andrew Jenson History Co., 1901–1936.

2

Richards, Journal, 9 Aug. 1844; "Conference Minutes," Times and Seasons, 1 Nov. 1844, 5:693; see also Minutes, Times and Seasons, Dec. 1839, 1:30.  

Richards, Willard. Journals, 1836–1853. Willard Richards, Papers, 1821–1854. CHL. MS 1490, boxes 1–2.

Times and Seasons. Commerce/Nauvoo, IL. Nov. 1839–Feb. 1846.

3

Andrus and Fuller, Register of the Newel Kimball Whitney Papers, 24; Wilkinson et al., Brigham Young University, 4:255.  

Andrus, Hyrum L., and Chris Fuller, comp. Register of the Newel Kimball Whitney Papers. Provo, UT: Division of Archives and Manuscripts, Harold B. Lee Library, Brigham Young University, 1978.

Wilkinson, Ernest L., Leonard J. Arrington, and Bruce C. Hafen, eds. Brigham Young University: The First One Hundred Years. Vol. 4. Provo, UT: Brigham Young University Press, 1976.

Historical Introduction

On 16 January 1843, , acting as JS's , wrote a letter from , Illinois, to attorney in , Illinois, apprising him of new legal developments involving JS. During December 1842 and early January 1843, Butterfield represented JS in his hearing before the Circuit Court for the District of to prevent his extradition for his alleged role in the attempted assassination of former governor . As JS's lawyer, Butterfield believed the circuit court might rule in JS's favor and dismiss the extradition order if he could prove that JS's case did not meet federal extradition requirements because he was not a fugitive from justice in Missouri. Stating that JS was not in Missouri at the time of the assassination attempt, Butterfield argued that JS's arrest and extradition were illegal. At the conclusion of the hearing, the court ruled in favor of JS, and Illinois governor ordered his discharge the following day. On 7 January, JS started the journey back to Nauvoo, arriving on 10 January.

This 16 January 1843 letter provided with a copy of a 10 January 1843 letter from to and informing them of Bennett's efforts to instigate a new extradition attempt. Because Butterfield successfully assisted JS during the most recent extradition issues, likely believed that Bennett's letter would assist Butterfield in defending JS against new charges. In the letter, Bennett informed Rigdon and Pratt that he planned to pursue charges dating back to crimes allegedly committed in during the 1838 conflict—charges on which JS and the other Latter-day Saint prisoners had never been formally tried, having escaped state custody prior to the appointed trial. Due to a legal technicality, an Illinois judge invalidated an earlier attempt to extradite JS on the 1838 charges. After circuit court judge ordered JS's discharge on the second extradition attempt in January 1843, Bennett hoped that Missouri officials would convene another grand jury that would return new indictments based on the 1838 charges, which then could be used to initiate extradition proceedings. Because of JS's strained relationships with Rigdon and Pratt in 1842, Bennett likely believed that both men would be sympathetic to his efforts to have JS imprisoned in Missouri.

received the letter from on 15 January and shared it with as requested. After receiving Bennett's letter, Pratt delivered it to JS on the morning of 16 January, thereby apprising him of Bennett's plans. Later that day, JS passed the letter on to , who copied the entire letter into the letter to . Butterfield apparently received the letter and responded to it on 3 February.

The original letter to is not extant. made a retained copy of his letter to Butterfield, featured here, prior to sending it.

Footnotes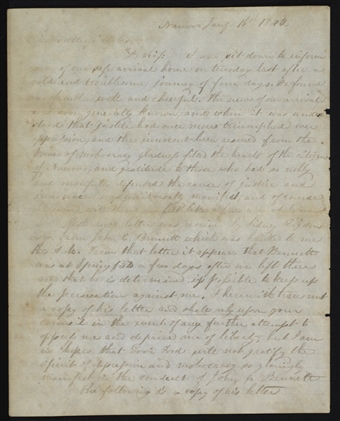 Jan
y.
16
th

.
1842
<​1843​>
Dr Sir/: I now sit down to inform you of our safe arrival home on tuesday last after a cold and troublesome journey of four days. We found our families well and cheerful. The news of our arrival was soon generally known, and when it was understood that justice had once more triumphed over oppression, and the innocent been rescued from the power of mobocracy gladness filled the hearts of the citizens of , and gratitude to those who had so nobly and manfully defended the cause of justice and innocence was universally manifest, and of course I rejoiced with them and felt like a free man at home
Yesterday a letter was received by Esqr. from which was handed to me this A. M. From that letter it appears that was at a few days after we left there and that he is determined if possible to keep up the persecution against me. I herewith transmit a copy of his letter and shall rely upon your council in the event of any further attempt to oppress me and deprive me of liberty; but I am in hopes that will not gratify the spirit of oppression and mobocracy so glaringly manifest in the conduct of
The following is a copy of his letter [p. [1]]
Esqr.
Dr Sir/: I now sit down to inform you of our safe arrival home on tuesday last after a cold and troublesome journey of four days. We found our families well and cheerful. The news of our arrival was soon generally known, and when it was understood that justice had once more triumphed over oppression, and the innocent been rescued from the power of mobocracy gladness filled the hearts of the citizens of , and gratitude to those who had so nobly and manfully defended the cause of justice and innocence was universally manifest, and of course I rejoiced with them and felt like a free man at home
Yesterday a letter was received by Esqr. from which was handed to me this A. M. From that letter it appears that was at a few days after we left there and that he is determined if possible to keep up the persecution against me. I herewith transmit a copy of his letter and shall rely upon your council in the event of any further attempt to oppress me and deprive me of liberty; but I am in hopes that will not gratify the spirit of oppression and mobocracy so glaringly manifest in the conduct of
The following is a copy of his letter [p. [1]]