Letter to the Church in Caldwell County, Missouri, 16 December 1838
Source Note

JS, Letter, , MO, to the church in , MO, 16 Dec. 1838; seven pages; JS Collection, CHL. Includes endorsement.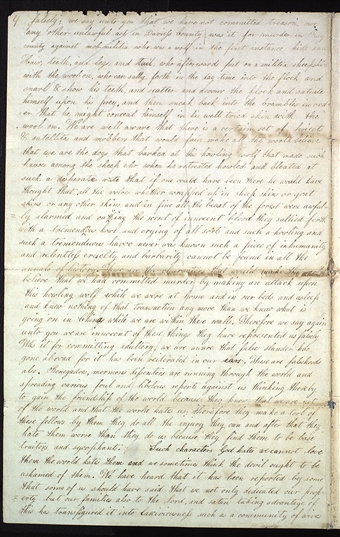 falsely; we say unto you that we have not committed treason, nor any other unlawful act in was it for murder in against mob-militia who was a wolf in the first instance hide and Hair, teeth, and legs, and tail, who afterwards put on a militia sheepskin with the wool on, who can sally forth in the day time into the flock and snarl & show his teeth, and scatter and devour the flock and satiate himself upon his prey, and then sneak back into the brambles in order that he might conceal himself in his well tried skin with the wool on. We are well aware that there is a certain set of priests & satellites and mobbers that would fain make all the world believe that we are the dogs that barked at this howling wolf that made such havoc among the sheep who when he retreated howled and bleated at such a desperate rate that if one could have been there he would have thought that all the wolves whether wrapped up in sheep skins or goat skins or any other skins and in fine all the beast of the forest were awfully alarmed and catching the scent of innocent blood they sallied forth with a tremenduous howl and crying of all sorts and such a howling and such a tremenduous havoc never was known such a piece of inhumanity and relentless cruelty and barbarity cannot be found in all the annals of history. These are the characters that would make the world believe that we had committed murder by making an attack upon this howling wolf while we were at home and in our beds and asleep and knew nothing of that transaction any more than we know what is going on in China while we are within these walls. Therefore we say again unto you we are innocent of these things they have represented us falsely Was it for committing adultery, we are aware that false slander has gone abroad for it has been reiterated in our <​ears​>. These are falsehoods also. Renegadoes, mormon dissenters are running through the world and spreading various foul and libelous reports against us thinking thereby to gain the friendship of the world because they know that we are not of the world and that the world hates us; therefore they make a tool of these fellows by them they do all the injury they can and after that they hate them worse than they do us because they find them to be base traitors and sycophants.
God
Such characters God hates we cannot love them the world hates them and we sometimes think the devil ought to be ashamed of them. We have heard that it has been reported by some that some of us should have said that we not only dedicated our property but our families also to the Lord, and satan taking advantage of this has transfigured it into lasciviousness such as a community of wives [p. 4]
falsely; we say unto you that we have not committed treason, nor any other unlawful act in was it for murder in against mob-militia who was a wolf in the first instance hide and Hair, teeth, and legs, and tail, who afterwards put on a militia sheepskin with the wool on, who can sally forth in the day time into the flock and snarl & show his teeth, and scatter and devour the flock and satiate himself upon his prey, and then sneak back into the brambles in order that he might conceal himself in his well tried skin with the wool on. We are well aware that there is a certain set of priests & satellites and mobbers that would fain make all the world believe that we are the dogs that barked at this howling wolf that made such havoc among the sheep who when he retreated howled and bleated at such a desperate rate that if one could have been there he would have thought that all the wolves whether wrapped up in sheep skins or goat skins or any other skins and in fine all the beast of the forest were awfully alarmed and catching the scent of innocent blood they sallied forth with a tremenduous howl and crying of all sorts and such a howling and such a tremenduous havoc never was known such a piece of inhumanity and relentless cruelty and barbarity cannot be found in all the annals of history. These are the characters that would make the world believe that we had committed murder by making an attack upon this howling wolf while we were at home and in our beds and asleep and knew nothing of that transaction any more than we know what is going on in China while we are within these walls. Therefore we say again unto you we are innocent of these things they have represented us falsely Was it for committing adultery, we are aware that false slander has gone abroad for it has been reiterated in our ears. These are falsehoods also. Renegadoes, mormon dissenters are running through the world and spreading various foul and libelous reports against us thinking thereby to gain the friendship of the world because they know that we are not of the world and that the world hates us; therefore they make a tool of these fellows by them they do all the injury they can and after that they hate them worse than they do us because they find them to be base traitors and sycophants. Such characters God hates we cannot love them the world hates them and we sometimes think the devil ought to be ashamed of them. We have heard that it has been reported by some that some of us should have said that we not only dedicated our property but our families also to the Lord, and satan taking advantage of this has transfigured it into lasciviousness such as a community of wives [p. 4]