Power of Attorney to Amasa Lyman, 28 February 1843
Source Note

JS, Power of Attorney, , Hancock Co., IL, to , , Hancock Co., IL, 28 Feb. 1843; handwriting of ; signature of JS; witnessed by and ; certified by , 20 Mar. 1843; certified by Alfred Knowles on behalf of John McKinney, 24 Apr. 1843; docket in handwriting of ; notations in handwriting of Alfred Knowles; one page; JS Collection, CHL.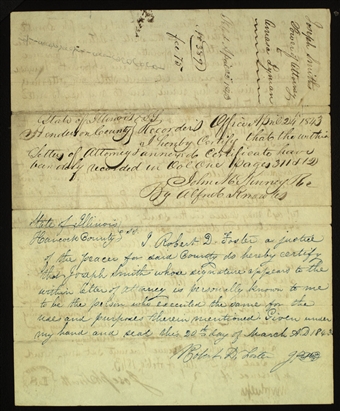 I a justice of the peacer for said do hereby certify that Joseph Smith whose signature appears to the within letter of attorney is personally known to me to be the person who executed the same for the uses and purposes therein mentioned. Given under my hand and seal this 20
th

.
day of March A. D. 1843
JP LS
State of Illinois)
SS
Henderson County)
Recorder's Office April 24
th
1843
I hereby Certify that the within Letter of Attorney & annexed Certificate have been duly recorded in Vol One pages 311 & 12
By Alfred Knowles
Joseph Smiths Power of Attorney to
fee 75
I a justice of the peacer for said do hereby certify that Joseph Smith whose signature appears to the within letter of attorney is personally known to me to be the person who executed the same for the uses and purposes therein mentioned. Given under my hand and seal this 20
th
. day of March A. D. 1843
JP LS
State of Illinois)
SS
Henderson County)
Recorder's Office April 24th 1843
I hereby Certify that the within Letter of Attorney & annexed Certificate have been duly recorded in Vol One pages 311 & 12
John McKinney Rec
By Alfred Knowles
Joseph Smiths Power of Attorney to
Filed April 22d 1843
fee 75