Home

>
Reflections and Blessings, 16 and 23 August 1842
Source Note

JS, Reflections and Blessings, , Hancock Co., IL, 16 and 23 Aug. 1842; in Book of the Law of the Lord, pp. 135, 164–165, 179–181; handwriting of ; CHL.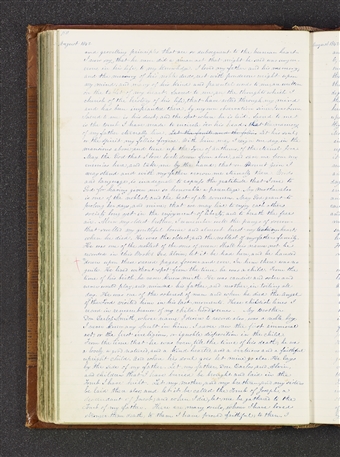 and grovelling principles that are so subsequent to the human heart. I now say, that he never did a mean act that might be said was ungenerous, in his life, to my knowledge. I loved and his memory; and the memory of his noble deeds, rest with ponderous weight upon my mind; and many of his kind and parental words to me, are written on the tablet of my heart. Sacred to me, are the thoughts which I cherish of the history of his life, that have rolled through my mind and has been implanted there, by my own observation since I was born. Sacred to me is his dust, and the spot where he is laid. Sacred to me is the tomb I have made to encircle o'er his head.
that
<​Let​> the memory of eternally live.
Let the faults, and the follies
Let his soul, or the Spirit my follies forgive. With him may I reign one day, in the mansions above; and tune up the Lyre of Anthems, of the eternal Jove. May the God that I love look down from above, and save me from my enemies here, and take me by the hand; that on Mount Zion I may stand and with my father crown me eternally there. Words and language, is inadequate to express the gratitude that I owe to God for having given me so honorable a parentage. also is one of the noblest, and the best of all women. May God grant to prolong her days, and mine; that we may live to enjoy each others society long yet in the enjoyment of liberty, and to breath the free air. my oldest brother, I remember well the pangs of sorrow that swelled my youthful bosom and almost burst my
aching
<​tender​> heart, when he died. He was the oldest, and the noblest of my fathers family. He was one of the noblest of the sons of men: Shall his name not be recorded in this Book? Yes, ; let it be had here, and be handed down upon these sacred pages, forever and ever. In him there was no guile. He lived without spot from the time he was a child. From the time of his birth, he never knew mirth. He was candid and sober and never would play; and minded , and , in toiling all day. He was one of the soberest of men and when he died the Angel of the Lord visited him in his last moments. These childish lines I record in remembrance of my child-hood scenes. My Brother , whose name I desire to record also, was a noble boy. I never knew any fault in him. I never saw the first immoral act; or the first irreligious, or ignoble disposition in the child. From the time that he was born, till the time of his death; he was a lovely, a good natured, and a kind-hearted, and a virtuous and a faithful upright child. And where his soul goes let mine go also. He lays by the side of . Let , , and , and children that I have buried be brought and laid in the Tomb I have built. Let , and my brethren, and my sisters be laid there also; and let it be called the Tomb of Joseph, a descendant of Jacob; and when I die, let me be gathered to the Tomb of . There are many souls, whom I have loved stronger than death; to them I have proved faithful; to them I [p. 180]
and grovelling principles that are so subsequent to the human heart. I now say, that he never did a mean act that might be said was ungenerous, in his life, to my knowledge. I loved and his memory; and the memory of his noble deeds, rest with ponderous weight upon my mind; and many of his kind and parental words to me, are written on the tablet of my heart. Sacred to me, are the thoughts which I cherish of the history of his life, that have rolled through my mind and has been implanted there, by my own observation since I was born. Sacred to me is his dust, and the spot where he is laid. Sacred to me is the tomb I have made to encircle o'er his head. Let the memory of eternally live. Let his soul, or the Spirit my follies forgive. With him may I reign one day, in the mansions above; and tune up the Lyre of Anthems, of the eternal Jove. May the God that I love look down from above, and save me from my enemies here, and take me by the hand; that on Mount Zion I may stand and with my father crown me eternally there. Words and language, is inadequate to express the gratitude that I owe to God for having given me so honorable a parentage. also is one of the noblest, and the best of all women. May God grant to prolong her days, and mine; that we may live to enjoy each others society long yet in the enjoyment of liberty, and to breath the free air. my oldest brother, I remember well the pangs of sorrow that swelled my youthful bosom and almost burst my tender heart, when he died. He was the oldest, and the noblest of my fathers family. He was one of the noblest of the sons of men: Shall his name not be recorded in this Book? Yes, ; let it be had here, and be handed down upon these sacred pages, forever and ever. In him there was no guile. He lived without spot from the time he was a child. From the time of his birth, he never knew mirth. He was candid and sober and never would play; and minded , and , in toiling all day. He was one of the soberest of men and when he died the Angel of the Lord visited him in his last moments. These childish lines I record in remembrance of my child-hood scenes. My Brother , whose name I desire to record also, was a noble boy. I never knew any fault in him. I never saw the first immoral act; or the first irreligious, or ignoble disposition in the child. From the time that he was born, till the time of his death; he was a lovely, a good natured, and a kind-hearted, and a virtuous and a faithful upright child. And where his soul goes let mine go also. He lays by the side of . Let , , and , and children that I have buried be brought and laid in the Tomb I have built. Let , and my brethren, and my sisters be laid there also; and let it be called the Tomb of Joseph, a descendant of Jacob; and when I die, let me be gathered to the Tomb of . There are many souls, whom I have loved stronger than death; to them I have proved faithful; to them I [p. 180]