Home

>
Letter from Reuben McBride, 3 January 1842
Source Note

, Letter, , Lake Co., OH, to JS, , Hancock Co., IL, 3 Jan. 1842; handwriting of ; four pages; JS Collection, CHL. Includes endorsement.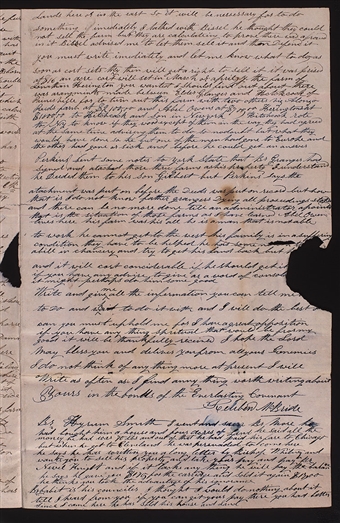 Lands here or in the east so it will be nessessary for to do something
if
imediately I talked with he thought they could not sell the farm but they are calculating to prove there was a fraud in it advised me to let them sell it and then Defend it you must write imediately and let me know what to do, as soon as cort sits th<​e​>y then will get a right to sell it it was prised at $16 an acre cort will set in March or april, y the farm of Jonathan Herington [Harrington] you wanted I should find out about[.] there was arangmints made between and of for to turn out this farm with two others viz Alonzo Reeds farm at $2100,00 and Abel Owens at $700,00 Heringtons at $1000,00 to Hitchcock and Son in Hitchcock rote to to know if they wood except of them in the way they had agreed at the same time advising them to do so no doubt but what they would have done so
he
but one of the men had gone to Europe and the other had gone or sick and before he could get an answer sent some notes to that had signed and atached those three farms as his property I understand he Deeded them to his son but says the atachment was put on before the Deeds was put on record but how that is I do not know s Dying all proseedings stop[p]ed and there can be no more done till an administrator apointed that is the situation of those farms as I have learned Abel Owen lives here his farm was his all[.] he is a man that is not able to work he cannot get to the west his family is in a suffering condition they have to be helped[.] he has some notion to [
page torn
] a bill in chancery and try to get his Land back but h[
page torn
] and it will cost conciderable if he should get it [
page torn
] if you have any advise to give or a word of consola[
page torn
] it might perhaps do him some good
Write and give <​me​> all the information you can tell me [
page torn
] to Do and what to do it with and I will do the best [I] can you must uphold me for I have a great opposition if you have any thing sp[i]ritual that would be fror my good it will be thankfully received I hope the Lord may bless you and deliver you from all your Enemies I do not think of any thing more at present I will Write as often as I find anny thing worth writing about
Yours in the bonds of the Everlasting Covenant
B
r

.
I went and saw Br More he had bought him a house and four acres of Land he said all the money he had was 70 Lbs and out of that he had paid his fare to but when he got to he was persuaded to come here he says he has written you a long letter by and wants you to sell his property and take your pay and pay B
r
and if it lacks any thing he will pay the balance he says he gave you $170, for the carriage and sold it again $17,00 he thinks you took the advantage of his ignorance is his counciler I thought I would do nothing about it till I heard from you if you can git your pay there you had better[.] Since I came here he has sold his house and Land [p. [3]]
Lands here or in the east so it will be nessessary for to do something imediately I talked with he thought they could not sell the farm but they are calculating to prove there was a fraud in it advised me to let them sell it and then Defend it you must write imediately and let me know what to do, as soon as cort sits they then will get a right to sell it it was prised at $16 an acre cort will set in March or april, y the farm of Jonathan Herington [Harrington] you wanted I should find out about. there was arangmints made between and of for to turn out this farm with two others viz Alonzo Reeds farm at $2100,00 and Abel Owens at $700,00 Heringtons at $1000,00 to Hitchcock and Son in Hitchcock rote to to know if they wood except of them in the way they had agreed at the same time advising them to do so no doubt but what they would have done so but one of the men had gone to Europe and the other had gone or sick and before he could get an answer sent some notes to that had signed and atached those three farms as his property I understand he Deeded them to his son but says the atachment was put on before the Deeds was put on record but how that is I do not know s Dying all proseedings stopped and there can be no more done till an administrator apointed that is the situation of those farms as I have learned Abel Owen lives here his farm was his all. he is a man that is not able to work he cannot get to the west his family is in a suffering condition they have to be helped. he has some notion to [
page torn
] a bill in chancery and try to get his Land back but h[
page torn
] and it will cost conciderable if he should get it [
page torn
] if you have any advise to give or a word of consola[
page torn
] it might perhaps do him some good
Write and give me all the information you can tell me [
page torn
] to Do and what to do it with and I will do the best [I] can you must uphold me for I have a great opposition if you have any thing spiritual that would be fror my good it will be thankfully received I hope the Lord may bless you and deliver you from all your Enemies I do not think of any thing more at present I will Write as often as I find anny thing worth writing about
Yours in the bonds of the Everlasting Covenant
B
r
. I went and saw Br More he had bought him a house and four acres of Land he said all the money he had was 70 Lbs and out of that he had paid his fare to but when he got to he was persuaded to come here he says he has written you a long letter by and wants you to sell his property and take your pay and pay B
r
and if it lacks any thing he will pay the balance he says he gave you $170, for the carriage and sold it again $17,00 he thinks you took the advantage of his ignorance is his counciler I thought I would do nothing about it till I heard from you if you can git your pay there you had better. Since I came here he has sold his house and Land [p. [3]]