Home

>
Letter from Reuben McBride, 3 January 1842
Source Note

, Letter, , Lake Co., OH, to JS, , Hancock Co., IL, 3 Jan. 1842; handwriting of ; four pages; JS Collection, CHL. Includes endorsement.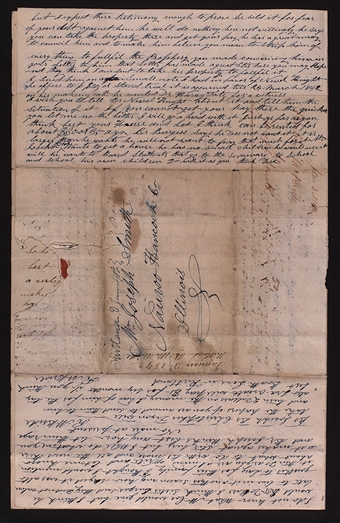 but I expect there [is] testimony enough to prove he sold it for fear of your debt against him he will do nothing here not willingly he says you can take the property there and get your pay he has a great many to council him and to make him believe you mean to strip him of every thing to fullfil the Prophesy you made concerning him in your Letter to him[.] that Letter has made a great Stir here you may Hope— not they think I am sent to take his property to follfil it
I sued him on a Small note I had in favor of he offers to p[ay] $30, or stand trial it is adjourned till 24 March 1842 on his making oath he wanted D
r
Harv[e]y Tate for a witness
I wish you to tell Br about it and tell him the Situation of it If you cannot get your pay there the quicker you let me no [know] the better I will go a head with it just as far as you think best your House and Lot I think can be rented for about $30— or 35 a yr Br Burgess says he does not want it it is larger than he wants he will not want to pay that much for it[.] M
r

.
Wants to get a house he has no small children he would use it well he wants to Board Students that go to the Seminary to School and school his own children Do with it as you think best
I do not know What would give but I think he would $35 Dollars I think Sister Burges said they did not calculate to live in it another season any how sayed it was altogeather to[o] Larg[e] for their family I thought I would mention it then do as you are a mind Write and let me know about what to do with Br More and all the news there
a
it makes a great stir here but I Will do whatevr you and Br Joseph thinks best any how let them rage
No more at present
Br Joseph Br Christopher Dixon will take the papers if you are a mind to send them to him and turn 2 Dollars on the money I had of him for the tax also Ira Aviatt will pay $1— for six months if you think best Boath Live in
Sent you a letter with a note [
page torn
]ast of $550,00 Last Summer Br Hobart Says he wrote the let[ter] inst put the note in it and Directed it to you The last talk I had with he sayed he was calculating to go to the west and he would leave your house with someone that would take good care of it
So
he Says if you come here in the Spring you shall [have] your house to go into in welcome he says you agreed to come here next Spring he asked me if you was coming I told him I did not know whether you would or not if you was to come you would be received with great Joy by all parties here
<​{Paid 25​>
<​ O. Jan 4th}​>
Illinois [p. [4]]
but I expect there [is] testimony enough to prove he sold it for fear of your debt against him he will do nothing here not willingly he says you can take the property there and get your pay he has a great many to council him and to make him believe you mean to strip him of every thing to fullfil the Prophesy you made concerning him in your Letter to him. that Letter has made a great Stir here you may Hope— not they think I am sent to take his property to follfil it
I sued him on a Small note I had in favor of he offers to pay $30, or stand trial it is adjourned till 24 March 1842 on his making oath he wanted Dr Harvey Tate for a witness
I wish you to tell Br about it and tell him the Situation of it If you cannot get your pay there the quicker you let me no [know] the better I will go a head with it just as far as you think best your House and Lot I think can be rented for about $30— or 35 a yr Br Burgess says he does not want it it is larger than he wants he will not want to pay that much for it. M
r
. Wants to get a house he has no small children he would use it well he wants to Board Students that go to the Seminary to School and school his own children Do with it as you think best
I do not know What would give but I think he would $35 Dollars I think Sister Burges said they did not calculate to live in it another season any how sayed it was altogeather too Large for their family I thought I would mention it then do as you are a mind Write and let me know about what to do with Br More and all the news there it makes a great stir here but I Will do whatevr you and Br Joseph thinks best any how let them rage
No more at present
Br Joseph Br Christopher Dixon will take the papers if you are a mind to send them to him and turn 2 Dollars on the money I had of him for the tax also Ira Aviatt will pay $1— for six months if you think best Boath Live in
Sent you a letter with a note [
page torn
]ast of $550,00 Last Summer Br Hobart Says he wrote the letter inst put the note in it and Directed it to you The last talk I had with he sayed he was calculating to go to the west and he would leave your house with someone that would take good care of it he Says if you come here in the Spring you shall [have] your house to go into in welcome he says you agreed to come here next Spring he asked me if you was coming I told him I did not know whether you would or not if you was to come you would be received with great Joy by all parties here
{Paid 25
O. Jan 4th}
Illinois [p. [4]]