Home

>
Letter to John C. Bennett, 8 August 1840
Source Note

JS, Letter, , Hancock Co., IL, to , [, Wayne Co., IL], 8 Aug. 1840. Featured version copied [probably ca. 8 Aug. 1840] in

JS Letterbook 2, pp. 176–178

; handwriting of ; JS Collection, CHL. For more complete source information, see the source note for

JS Letterbook 2

.

Historical Introduction

On 8 August 1840, JS wrote from , Illinois, to in , Illinois. JS was responding to three letters Bennett had sent reminding JS and that he had offered to assist the during their difficulties and declaring that he intended to join with them in Nauvoo. This 8 August letter states it was in response to a 25 July 1840

letter

from Bennett, but JS's lengthy paragraph on the environment, location, and population of Nauvoo as well as the postscript indicate that JS was also responding to Bennett's letters of 27 and 30 July. Bennett did not receive this response from JS before writing another

letter

on 15 August.

The original letter is apparently not extant. copied it into

JS Letterbook 2

, probably around the time the letter was written.

Footnotes

3

Coray, Autobiographical Sketch, 2, 4–5, 17, 19. The letter immediately preceding this one in JS Letterbook 2 is dated 28 August 1840. (Letter from Thomas Burdick, 28 Aug. 1840.)  

Coray, Howard. Autobiographical Sketch, after 1883. Howard Coray, Papers, ca. 1840–1941. Photocopy. CHL. MS 2043, fd. 1.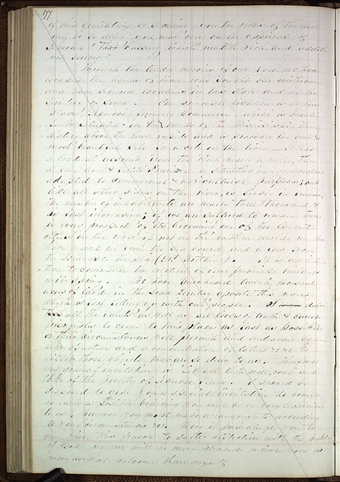 of this generation or securing you the riches of the world yet, by so doing you may rely on the approval of Jehovah "That blessing which maketh rich and addeth not sorrow"
Through the tender mercies of our God we have escaped the hands of those who sought our overthrow and have secured locations in this and in the Territory of . Our principle location is at this place, (formerly [)] which is beautifully situated on the banks of the , immediately above the lower rapids and is probably the best & most beautiful site for a city on the — It has a gradual ascent from the river nearly a mile, then a fine level & fertile Prairie, a situation in every respect adapted to commercial & agricultural purposes; but like all other places on the river, is Sickly in summer. The number of inhabitants are nearly three thousand &
a
is fast increasing; if we are suffered to remain there is every prospect of its becoming one of the largest cities on the river if not in the western world, numbers have moved in from the Sea board and a few from the Islands of the Sea (Gr
t.
Britain). It is our intention to commence the erection of some publick buildings next spring. We have purchased twenty thousand acres of land in the oposite this place which is fast filling up with our people.
It
I
is my
desire
that
all the Saints as well as all lovers of truth & correct principles to come to this place as fast as possible as their circumstances will permit and endeavor by energy of action and a concentration of talent &c &c to effect those objects that are so dear to us. Therefore my general invitation is "Let all that will, come" and take of the poverty of freely. I should be disposed to give you a special invitation to come as early as possible believing you will be of great service to us, however you must make arrangements according to your circumstances &c. Were it possible for you to come here this season to suffer affliction with the people of God no one will be more pleased or give you a more cordial welcome than myself [p. 177]
of this generation or securing you the riches of the world yet, by so doing you may rely on the approval of Jehovah "That blessing which maketh rich and addeth not sorrow"
Through the tender mercies of our God we have escaped the hands of those who sought our overthrow and have secured locations in this and in the Territory of . Our principle location is at this place, (formerly ) which is beautifully situated on the banks of the , immediately above the lower rapids and is probably the best & most beautiful site for a city on the — It has a gradual ascent from the river nearly a mile, then a fine level & fertile Prairie, a situation in every respect adapted to commercial & agricultural purposes; but like all other places on the river, is Sickly in summer. The number of inhabitants are nearly three thousand & is fast increasing; if we are suffered to remain there is every prospect of its becoming one of the largest cities on the river if not in the western world, numbers have moved in from the Sea board and a few from the Islands of the Sea (Grt. Britain). It is our intention to commence the erection of some publick buildings next spring. We have purchased twenty thousand acres of land in the oposite this place which is fast filling up with our people. I desire all the Saints as well as all lovers of truth & correct principles to come to this place as fast as possible as their circumstances will permit and endeavor by energy of action and a concentration of talent &c &c to effect those objects that are so dear to us. Therefore my general invitation is "Let all that will, come" and take of the poverty of freely. I should be disposed to give you a special invitation to come as early as possible believing you will be of great service to us, however you must make arrangements according to your circumstances &c. Were it possible for you to come here this season to suffer affliction with the people of God no one will be more pleased or give you a more cordial welcome than myself [p. 177]