Letter from Justin Butterfield, 17 December 1842
Source Note

, Letter, , Sangamon Co., IL, to JS, , Hancock Co., IL, 17 Dec. 1842; handwriting of ; dockets in handwriting of and ; one page; JS Collection, CHL.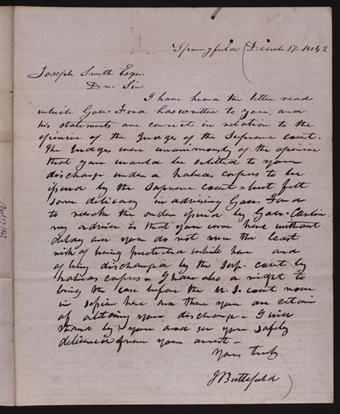 Decmb 17. 1842
Joseph Smith Esqr.
Dr. Sir
I have heard the letter read which has written to you, and his statements are correct in relation to the opinion of the Judges of the Supreme Court. The Judges were unanimously of the opinon that you would be entitled to your discharge under a habeas corpus to be issued by the Supreme Court— but felt some delicacy in advising to revoke the order issued by my advice is that you come here without delay and you do not run the least risk of being protected while here and of being discharged by the Sup. court by habeas corpus— I have also a right to bring the case before the U. S. court now in session here and there you are certain of obtaining your discharge— I will stand by you and see you safely delivered from your arrest—
Yours truly
[p. [1]]
Decmb 17. 1842
Joseph Smith Esqr.
Dr. Sir
I have heard the letter read which has written to you, and his statements are correct in relation to the opinion of the Judges of the Supreme Court. The Judges were unanimously of the opinon that you would be entitled to your discharge under a habeas corpus to be issued by the Supreme Court— but felt some delicacy in advising to revoke the order issued by my advice is that you come here without delay and you do not run the least risk of being protected while here and of being discharged by the Sup. court by habeas corpus— I have also a right to bring the case before the U. S. court now in session here and there you are certain of obtaining your discharge— I will stand by you and see you safely delivered from your arrest—
Yours truly
[p. [1]]