Home

>
John Whitmer, History, 1831–circa 1847
Source Note

, History, 1831–ca. 1847, as found in "The Book of John, Whitmer kept by Comma[n]d," ca. 1838–ca. 1847; handwriting of ; ninety-six pages (two additional leaves missing); CCLA. Includes redactions, editing marks, and archival marking.

inscribed his history into a blank book containing leaves ruled with thirty-four blue-green horizontal lines (now faded). Evidence suggests there were originally twelve gatherings of twelve leaves (twenty-four pages) each. The entire fifth gathering is missing from the current volume, and one extra leaf not part of the original text block was inserted between the fourth and sixth gatherings, making 133 interior leaves in the current volume. The text block was sewn all along on recessed cords. The blank leaves measure 12¼ x 7⅞ inches (31 x 20 cm); the inscribed leaves are slightly smaller in width, having been trimmed about ⅛ inch (0.3 cm) during conservation work. The volume was constructed with front and back covers of pasteboard and likely had a hollow-back spine and quarter-leather binding. The outside covers are adorned in shell marbled paper, with gray-green body and veins of blue and red. The complete volume currently measures 12½ x 8⅛ x 1 inches (32 x 21 x 3 cm).

Details of the original state of the volume are impossible to determine because of conservation work done in the second half of the twentieth century. Initially the inscribed leaves were removed from the original boards and from the intact blank leaves of the volume and rebound separately in a modern comb binding. These inscribed leaves were later removed from this binding, reinforced along the bound edge with paper, laminated with thin paper, and bound in a modern case binding. A third conservation effort reversed the earlier work by removing the laminated material and reattaching the inscribed leaves to the blank leaves and the original boards.

The final leaf of the fourth gathering contains manuscript pages 95 and 96. The next two leaves, containing manuscript pages 97 through 100, are missing. They were removed before 1893, when Andrew Jenson, a representative of the Church Historian's Office in Salt Lake City, inspected the volume and noted that it was missing two leaves at that point. Evidence indicates that the remaining leaves of the fifth gathering were intact but blank when Jenson inspected the volume in 1893, suggesting they were discarded during the first conservation effort in the twentieth century. The first blank leaf following manuscript page 96 does not match the texture or form of the other blank leaves, but it does bear a slight water stain matching staining found on almost all leaves within the book. It may be an extra flyleaf from either the front or back of the volume inserted after page 96, or it may be paper from a different source; in either case, it was inserted early enough to be stained with the rest of the volume. The endpapers are original and currently consist of pastedowns and single flyleaves in the front and back of the volume.

An unidentified scribe, most likely working in the nineteenth century, wrote "Church History" on the top of the front cover. A green adhesive label is affixed to the front cover. At some point, someone attempted to remove the label but succeeded in removing only portions of it. The only writing visible on the label is "HURC", a remnant of the word "CHURCH". The current spine of the volume was added during conservation work, and thus it is unknown whether the original spine bore a title. The recto of the front flyleaf contains several redactions or archival markings in graphite in an unknown hand: "John Whitmer | written | 1835–1838 | after 1860" and "MS History of church | 1830–1838". The verso is blank, aside from offsetting from the first interior page and a stamped "1072" near the bottom. inscribed his history from page 1 through the bottom of page 96, at which point the narrative ends midsentence, suggesting it originally continued onto the next page. When Andrew Jenson saw the book in 1893 while visiting Missouri to gather historical information, he made a handwritten copy of the volume and provided a physical description. He wrote that "four pages or two leaves have been torn off the book, which is seen from fragments of the leaves remaining." He also noted that "the next page left intact is 101. No other writing, however, appears on this page, nor on any of the succeeding pages." Jenson's earlier draft stated that the page "is numbered 101." If this was the case, then the page numbered 101 was part of the fifth gathering and is now missing. At some point, likely during the early twentieth century, the leaf containing pages 95 and 96 was repaired with adhesive tape; the tape was removed during a later conservation effort. Redactions were made by John Whitmer himself, and subsequent editing marks were made that correspond to the early twentieth-century publication of Whitmer's history by the Reorganized Church of Jesus Christ of Latter Day Saints. (RLDS church).

Following his excommunication in 1838, apparently retained possession of the history. In a January 1844 offer to sell his history to the church, Whitmer wrote that the "church history" was "at my controll but not in my Possession." declined the offer, and Whitmer certainly had the "Book of John Whitmer" after January 1844, because he updated the volume after JS's death.

It appears retained his papers until his death in July 1878, after which his widow, Sarah Maria Jackson Whitmer, sent the "Book of John Whitmer" (though apparently not any earlier notes or drafts) and other papers to , Missouri, where Whitmer's brother resided. David Whitmer had possession of the volume in the 1880s, before his death in 1888. In 1893, when Andrew Jenson inspected and copied the "Book of John Whitmer," it was in the possession of David J. Whitmer, David Whitmer's son. Following David J. Whitmer's death, his nephew George Schweich, a grandson of David Whitmer, took possession of the material, along with the Book of Mormon printer's manuscript and other early Latter-day Saint manuscripts. By 1902, the First Presidency of the RLDS church approved the purchase of papers owned by Schweich, including the "Book of John Whitmer," the Book of Mormon printer's manuscript, and several leaves that had been separated from Revelation Book 1. The RLDS church, later renamed the Community of Christ, has maintained custody of the Whitmer history since that time.

Footnotes

Historical Introduction

After his estrangement from the church, refused to relinquish the manuscript for printing. Two months after Whitmer's excommunication, JS and wrote him:

We were desireous of honouring you by giving publicity to your notes on the history of the Church of Latter day Saints, after such corrections as we thaught would be necessary; knowing your incompetency as a historian, and that your writings coming from your pen, could not be put to the press, without our correcting them, or elce the Church must suffer reproach; Indeed Sir, we never supposed you capable of writing a history; but were willing to let it come out under your name notwithstanding it would realy not be yours but ours. We are still willing to honour you, if you can be made to know your own interest and give up your notes, so that they can be corrected, and made fit for the press. But if not, we have all the materials for another, which we shall commence this week to write[.]

There is no record of responding to the condescending letter, and church leaders soon made other arrangements. and had already been assigned as historians, and within three weeks of writing to Whitmer, JS himself began to prepare a new history with the assistance of and scribe .

In the 1840s, as and worked in , Illinois, to compile the history of JS and the church, Phelps apparently inquired after the history in 's possession. In January 1844, Whitmer wrote to Phelps, offering to sell his history "at a fair price." Whitmer told Phelps that Latter-day Saint land in was "going to distruction"; he proposed trading his history "for property &c. provided we can agree as to price." Whitmer reported that the "church history," which may have been the volume that contained the "Book of John Whitmer," was "at my controll but not in my Possession." Willard Richards responded to this letter, declining the offer from Whitmer and explaining that church historians had "already compiled about 800 pages of church history . . . which covers all the ground of which you took notes, therefore anything which you have in the shape of church history would be of little or no consequence to the church at large."

Continuing to write after the death of JS, at first affirmed as the rightful leader of the Saints, but he later canceled this passage. In September 1847, persuaded John and and to accept ordination in a reformed Church of Christ, which they soon repudiated. It was during this time that John Whitmer wrote the end of his history, putting forward the successorship claims of his brother David. As the main body of the Saints moved to the Great Basin, Whitmer remained in and at no point did he reestablish affiliation with those who went west. He did, however, continue to affirm his witness of the gold plates. A prosperous farmer until his death on 11 July 1878, he left an estate of 625 acres as well as livestock and farm equipment.

The "Book of John Whitmer" illuminates many important concerns of the early church, including property issues, church discipline, the millenarian beliefs of the Latter-day Saints and their fervor in constructing or the "New Jerusalem," the treatment of dissidents, and the establishment of a priesthood leadership hierarchy. It also reports on the construction and significance of the at , the conflicts the Saints had with their neighbors in , their subsequent attempts to secure redress, and aspects of succession following JS's death. 's work is particularly significant for the revelations, petitions, and letters that form a large part of his history.

Footnotes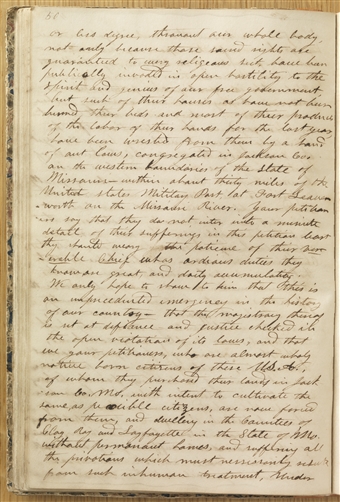 or less degree, throuout our whole body, not only because those sacred rights are guaranteed to every religeous sect, have been publically invaded in open hostility to the spirit and genius of our free government, but such of their houses as have not been burned their beds and most of their products of the labor of their hands for the last year, have been wrested from them by a band of out laws, congregated in on the western boundaries of the State of Missouri—within about thirty miles of the Military Post, at Fort Leavenworth on the . Your petitioners say that they do not enter into a minute detail of their sufferings in this petition least they should weary
you
the patience of their
Venerable
Chief
whos ardious duties they know are great, and daily accumulating.
We only hope to show to him that this is an unprecedented emergency in the history of our country—that the magistracy thereof is set at defiance—and Justice checked in the open violation of its
laws
, and that we your petitioners, who are almost wholy native born citizens of these , of whom they purchased their lands in Mo. with intent to cultivate the same, as peacible citizens, are now forced from them, and dwelling in the Counties of and in the State of Mo. without permanant homes, and suffering all the privations which must nessessarily result from such inhuman treatment, Under [p. 50]
or less degree, throuout our whole body, not only because those sacred rights are guaranteed to every religeous sect, have been publically invaded in open hostility to the spirit and genius of our free government, but such of their houses as have not been burned their beds and most of their products of the labor of their hands for the last year, have been wrested from them by a band of out laws, congregated in on the western boundaries of the State of Missouri—within about thirty miles of the Military Post, at Fort Leavenworth on the . Your petitioners say that they do not enter into a minute detail of their sufferings in this petition least they should weary the patience of their
Venerable
Chief
whos ardious duties they know are great, and daily accumulating.
We only hope to show to him that this is an unprecedented emergency in the history of our country—that the magistracy thereof is set at defiance—and Justice checked in the open violation of its
laws
, and that we your petitioners, who are almost wholy native born citizens of these , of whom they purchased their lands in Mo. with intent to cultivate the same, as peacible citizens, are now forced from them, and dwelling in the Counties of and in the State of Mo. without permanant homes, and suffering all the privations which must nessessarily result from such inhuman treatment, Under [p. 50]