Home

>
Letter to Heber C. Kimball and Brigham Young, 16 January 1839
Source Note

, JS, and , Letter, , Clay Co., MO, to and , , Caldwell Co., MO, 16 Jan. 1839. Featured version copied [between ca. May 1839 and ca. 27 Aug. 1841]; handwriting of , , and ; two pages; Kimball Family Correspondence, CHL. Includes docket and use marks.

Bifolium measuring 12 × 7¾ inches (30 × 20 cm), with thirty-nine printed lines per page. The document contains needle holes in the center fold and browning along the outer edges, suggesting that the pages were originally bound in a blank book. Before the bifolium was removed, two texts were inscribed on the first leaf: a portion of 's autobiography was inscribed on the recto, which is paginated "23", and a copy of governor 's expulsion order of 27 October 1838 was inscribed on the verso. After the leaves were extracted from the blank book, the bifolium was folded, apparently for storage, and the 16 January 1839 letter was copied on the recto and verso of the second leaf. One of the resulting folds was used as a left margin on the recto of the second leaf. At some point, the two leaves were separated. Pinholes near the center fold may indicate the leaves were refastened with pins. The leaves were later inscribed with graphite use marks, refolded for filing, and docketed by : "Jan 16. 39 | Joseph, Sidney & Hyrum | to | Heber and Brigham | cop

d

".

This copy of the letter apparently remained in 's possession, except for when copied it into an expanded version of Kimball's autobiography, likely in the late 1850s or in the 1860s. After Kimball's death in 1868, the letter was passed down to his descendants, who evidently maintained possession of the letter until 1973, when Spencer W. Kimball donated it to the Historical Department of the LDS church.

Footnotes

1

See Kimball, "Journal and Record," 30.  

Kimball, Heber C. "The Journal and Record of Heber Chase Kimball an Apostle of Jesus Christ of Latter Day Saints," ca. 1842–1858. Heber C. Kimball, Papers, 1837–1866. CHL. MS 627, box 1.

2

Kimball, Autobiography, 64a.  

Kimball, Heber C. Autobiography, ca. 1856. Heber C. Kimball, Papers, 1837–1866. CHL.

3

Helen Mar Kimball Whitney, "Scenes and Incidents in Nauvoo," Woman's Exponent, 1 Jan. 1882, 114; Instrument of Gift, 11 July 1973, in Case File for Kimball Family Correspondence, CHL.  

Woman's Exponent. Salt Lake City. 1872–1914.

Kimball Family Correspondence, 1838–1871. CHL. MS 6241.

Historical Introduction

On 16 January 1839, JS, , and wrote from the in , Missouri, to and —the two senior in , Missouri—directing them to manage church affairs temporarily while the remained imprisoned. In early January 1839, Kimball and Young had sent a letter, apparently no longer extant, to the First Presidency, requesting guidance on when the apostles should begin moving their families out of . Some had left Missouri in November and December 1838 to comply with the expulsion order that Governor issued on 27 October 1838; however, the majority of church members, including Kimball, Young, and their families, remained in , waiting for spring.

In this 16 January letter, the First Presidency directed and to remain with their families in until the presidency was released from jail, because the Quorum of the Twelve Apostles was temporarily responsible for managing church affairs and proselytizing efforts. When the was established in 1835, it presided over the church outside of and its stakes, under the direction of the First Presidency. In early 1838, the senior apostles—Thomas B. Marsh, David W. Patten, and Brigham Young—were appointed to a pro tempore presidency over the church in Missouri. After disaffected and died in October, Young was the only remaining member of the Missouri . The impending migration of church members out of Missouri signaled the necessary suspension of regular church organization in the state, and the Zion , over which Young presided, met for the last time on 16 January, the date of this letter. As indicated in the letter, with the First Presidency imprisoned and unable to direct day-to-day affairs, senior apostles Kimball and Young were to assume leadership of the church.

In the letter, the First Presidency instructed and to ordain individuals previously called as apostles, thereby rebuilding the quorum, which had been depleted during the crises of 1837 and 1838. By late spring 1838, four apostles had been excommunicated or otherwise removed from office for disaffection, reducing the quorum to eight members. The October 1838 conflict in further diminished the council's ranks, with and withdrawing from church fellowship and with dying in a military engagement at . Around the same time, fell out of favor after criticizing JS. Brothers and remained in good standing in the quorum, but the former was imprisoned and the latter was in . In mid-December 1838, Young and Kimball and to the apostleship in . The 16 January letter instructed Young and Kimball to ordain others who had been appointed to the apostleship but not yet ordained, to fill the remaining vacancies, and to appoint the oldest remaining member of the original quorum as president of the quorum.

In addition, the presidency addressed the twelve apostles' responsibility "to build up the church, and regulate all the affairs of the same, in all nations." In prior years, new converts were encouraged to to , Ohio, or to church settlements in . However, in early 1838 a

revelation

encouraged the Saints in Kirtland to immigrate to Missouri, and conflicts later that year in Missouri meant it was no longer an option for gathering. In the absence of a central gathering place, the presidency indicated that new converts should remain in their homes for the time being, except for English converts who chose to "take their chance with the saints here"; these converts were encouraged to "send wise men before them and buy out" the Kirtland area for settlement. The presidency also reminded and that they and the other apostles were to depart from the site on 26 April 1839 for a mission to Great Britain.

Like some of JS's other letters written in the , this missive invokes scriptural language and was apparently patterned after New Testament epistles, with a greeting, counsel on specific items, and a concluding blessing. It is unknown who inscribed the original letter, which is apparently not extant; , who was the first signatory, may have written it. JS may have inscribed the postscript, which he was the first to initial. How the letter was transmitted from to is unknown, although it is possible that the First Presidency entrusted the letter to , who visited the jail on 16–17 January 1839. A copy of the letter was made as early as May 1839. The first ten lines were copied by , who began performing scribal work for in May 1839. For unknown reasons, Kimball copied the next four lines and one word of the fifth line. Kimball's wife, , copied the remainder of the letter. Thompson died on 27 August 1841; therefore, at least his portion of the copy was inscribed by that date.

Footnotes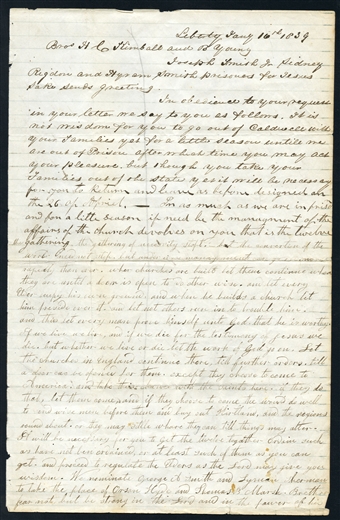 Joseph Smith Jr and prisoners for Jesus sake sends greeting.
In obedience to your request in your letter we say to you as follows. It is not wisdom for you to go out of with your Families yet for a little season untill we are out of after which time you may act your pleasure. but though you take your Families out of the yet it will be necessary for you to Return and leave as before designed on the 26 of April.— In as much as we are in and for a litt[l]e season if need be the managment of the affairs of the devolves on you that is the <​the​> . the gathering of necessity stopt.— but the convertion of the world need not stop. but under wise management can go on more rapidly than ever. wher[e] churches are built let them continue where they are until a door is open to do other wise. and let every ocupy his own ground. and when he builds a church let him preside over it. and let not others run in to trouble him. and thus let every man prove himself unto God that he is worthy. If we live we live, and if we die for the testimony of Jesus we die. but whether we live or die let the work of God go on. Let the churches in continue there, till further orders. till a door cac [can] be opened for them. except they choose to come to . and take their chance with the saints here. if they do that, let them come, and if they choose to come the[y] would do well to send wise men before them and buy out , and the regions round about. or they may settle whare they can till things may alter. It will be necessary for you to get the twelve togather such as have not ben ordained, or at least such of them as you can get. and proceed to regulate the Elders as the Lord may give you wisdom. We nominate and to take the place of and Brethren fear not, but be strong in the Lord and in the power of his [p. [1]]
Jany 16th 1839
Bros and
Joseph Smith Jr and prisoners for Jesus sake sends greeting.
In obedience to your request in your letter we say to you as follows. It is not wisdom for you to go out of with your Families yet for a little season untill we are out of after which time you may act your pleasure. but though you take your Families out of the yet it will be necessary for you to Return and leave as before designed on the 26 of April.— In as much as we are in and for a little season if need be the managment of the affairs of the devolves on you that is the the . the gathering of necessity stopt.— but the convertion of the world need not stop. but under wise management can go on more rapidly than ever. where churches are built let them continue where they are until a door is open to do other wise. and let every ocupy his own ground. and when he builds a church let him preside over it. and let not others run in to trouble him. and thus let every man prove himself unto God that he is worthy. If we live we live, and if we die for the testimony of Jesus we die. but whether we live or die let the work of God go on. Let the churches in continue there, till further orders. till a door cac [can] be opened for them. except they choose to come to . and take their chance with the saints here. if they do that, let them come, and if they choose to come they would do well to send wise men before them and buy out , and the regions round about. or they may settle whare they can till things may alter. It will be necessary for you to get the twelve togather such as have not ben ordained, or at least such of them as you can get. and proceed to regulate the Elders as the Lord may give you wisdom. We nominate and to take the place of and Brethren fear not, but be strong in the Lord and in the power of his [p. [1]]