Home

>
Docket Entry, 1–circa 6 July 1843 [Extradition of JS for Treason]
Source Note

Docket Entry, [, Hancock Co., IL, 1–ca. 6 July 1843],

Extradition of JS for Treason

(Nauvoo, IL, Municipal Court 1843); Nauvoo Municipal Court Docket Book, 55–87, 116–150; handwriting of James Brown and ; CHL.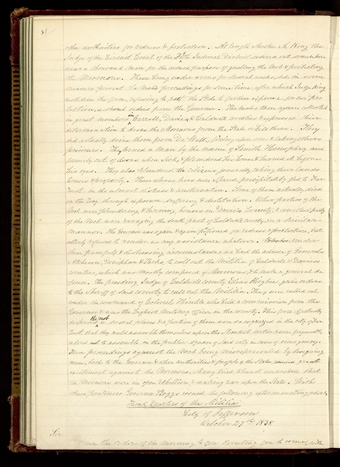 other authorities for redress & protection. At length the Judge of the Circuit Court of the Fi[f]th Judicial District, ordered out somewhere near a thousand men for the avowed purpose of quelling the mob & protecting the Mormons. These being under arms for several weeks, did, in some measure prevent the mob's proceedings for some time, after which withdrew the force, refusing to put the to further expense, for our protection, without orders from the . The mobs then again collected in great numbers Carroll, & counties & expressed their determination to drive the Mormons from the or kill them. They did actually drive them from , firing upon some & taking others prisoners. The<​y​> turned a man by the name of and family out of doors when sick, & plundered his house & burned it before his eyes. They also plundered the citizens generally, taking their lands houses & property. Those whose lives were spared, precipitately fled to in the utmost distress & consternation. Some of them actually died on the way, through exposure, suffering & destitution. Other parties of the mob were plundering & burning houses in ; & another party of the mob were ravaging the south part of , in a similar manner. The was again & again petitioned for redress & protection, but utterly refused to render us any assistance whatever.
Whatev
Under these painfull & distressing circumstances we had the advice of Generals , & , to call out the militia of & counties, which was mostly composed of Mormons, & to make a general defence. The pres[i]ding Judge of , gave orders to the of said to call out the militia. They were called out under the command of who held a commission from the & was the highest military officer in the . This force effectually dispersed in several places & a portion of them were so organized in the city of , that they could assemble themselves upon the shortest notice & were frequently ordered
out
to assemble in the public square of said in cases of emergency. These proceedings against the mob being misrepresented by designing men, both to the & other authorities & people of the , caused great excitement against the Mormons. Many tried to have it understood that the Mormons were in open rebellion & making war upon the . With these pretences issued the following exterminating order;
Head Quarters of the Militia
City of
Sir
Since the order of the morning to you directing you to come, with [p. 81]
other authorities for redress & protection. At length the Judge of the Circuit Court of the Fifth Judicial District, ordered out somewhere near a thousand men for the avowed purpose of quelling the mob & protecting the Mormons. These being under arms for several weeks, did, in some measure prevent the mob's proceedings for some time, after which withdrew the force, refusing to put the to further expense, for our protection, without orders from the . The mobs then again collected in great numbers Carroll, & counties & expressed their determination to drive the Mormons from the or kill them. They did actually drive them from , firing upon some & taking others prisoners. They turned a man by the name of and family out of doors when sick, & plundered his house & burned it before his eyes. They also plundered the citizens generally, taking their lands houses & property. Those whose lives were spared, precipitately fled to in the utmost distress & consternation. Some of them actually died on the way, through exposure, suffering & destitution. Other parties of the mob were plundering & burning houses in ; & another party of the mob were ravaging the south part of , in a similar manner. The was again & again petitioned for redress & protection, but utterly refused to render us any assistance whatever. Under these painfull & distressing circumstances we had the advice of Generals , & , to call out the militia of & counties, which was mostly composed of Mormons, & to make a general defence. The presiding Judge of , gave orders to the of said to call out the militia. They were called out under the command of who held a commission from the & was the highest military officer in the . This force effectually dispersed in several places & a portion of them were so organized in the city of , that they could assemble themselves upon the shortest notice & were frequently ordered to assemble in the public square of said in cases of emergency. These proceedings against the mob being misrepresented by designing men, both to the & other authorities & people of the , caused great excitement against the Mormons. Many tried to have it understood that the Mormons were in open rebellion & making war upon the . With these pretences issued the following exterminating order;
Head Quarters of the Militia
City of
Sir
Since the order of the morning to you directing you to come, with [p. 81]