Home

>
Minutes and Discourses, 6–9 April 1844, as Reported by Thomas Bullock
Source Note

General conference of the church, Minutes, and JS, Discourses, Nauvoo, Hancock Co., IL, 6–9 Apr. 1844; handwriting of ; dockets in handwriting of ; forty-one pages; General Church Minutes, CHL.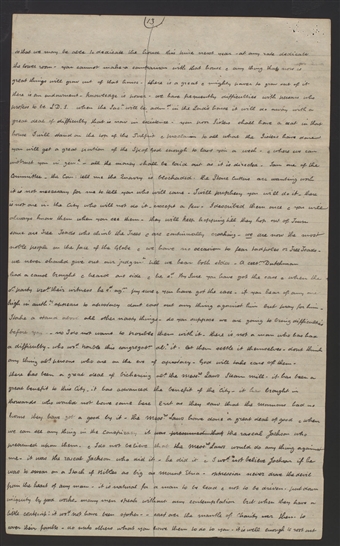 so that we may be able to dedicate the this time next year— at any rate dedicate the lower room— you cannot make a— comparison with that & any thing that now is great things will grow out of that — there is a great & mighty power to grow out of it there is an endowment— knowledge is power— we have frequently difficulties with persons who profess to be L. D. S. [Latter Day Saints] when the Sac[[ramen]]
t.
will be adm[inistere]
d.
in the Lord's it will do away with a great deal of difficulty that is now in existence— you poor Sisters shall have a seat in that I will stand on the top of the Pulpit & proclaim to all what the Sisters have done you will get a great portion of the Sp[irit]: of God enough to last you a week— & where we can instruct you in gen
l.
— all the money shall be laid out as it is directed— I am one of the Committee— the Com: tell me the Quarry is blockaded. The Stone Cutters are wanting work it is not necessary for me to tell you who will come— I will prophesy you will do it— there is not one in the who will not do it— except a few— I described them once & you will always know them when you see them— they will keep hopping till they hop out of Town some are Tree Toads who climb the Trees & are continually croaking—
we
are now the most noble people on the face of the Globe & we have no occasion to fear tadpoles or Tree Toads— we never should give out our judgm[en]
t.
till we hear both sides— A cert[ai]
n.
Dutchman had a cause brought & heard one side & he s[ai]
d.
By Sure you have got the case & when the o[the]
r.
party bro
t.
their witness he s
d.
ag[ai]
n.
by sure & you have got the case— if you hear of any one high in auth[orit]
y.
appears to apostacy dont cast out any thing against him but pray for him— I take a stand above all other nasty things— do you suppose we are going to bring difficulties before you
——
no I do not want to trouble them with it— there is not a man who has had a difficulty— who wo
d.
trouble this congregat[io]
n.
ab[ou]
t.
it— let them settle it themselves— dont think any thing ab
t.
persons who are on the eve of apostacy— God will take care of them— there has been a great deal of bickering ab
t.
the Mess
rs.
Laws Steam Mill— it has been a great benefit to this — it has advanced the benefit of the — it has brought in thousands who would not have come here but as they saw that the Mormons had no horns they have got a good by it— the Mess
rs.
Laws have done a great deal of good & when we can see any thing in the conspiracy it was
presumed that
the rascal who presumed upon them. & I do not believe that the Mess
rs.
Laws would do any thing against me— it was the rascal who did it— he did it & I wo
d.
not believe if he was to swear on a Stack of Bibles as big as Mount Etna— oppression never drove the devil from the heart of any man— it is natural for a man to be lead & not to be driven. put down iniquity by good works— many men speak without any contemplation but when they have a little contemp[lation]: it wo
d.
not have been spoken
——
cast over the mantle of charity over them to cover their faults— do unto others what you have them to do to you— it is well enough to root out [p. 13]
so that we may be able to dedicate the this time next year— at any rate dedicate the lower room— you cannot make a— comparison with that & any thing that now is great things will grow out of that — there is a great & mighty power to grow out of it there is an endowment— knowledge is power— we have frequently difficulties with persons who profess to be L. D. S. Latter Day Saints when the Sac[ramen]t. will be administered. in the Lord's it will do away with a great deal of difficulty that is now in existence— you poor Sisters shall have a seat in that I will stand on the top of the Pulpit & proclaim to all what the Sisters have done you will get a great portion of the Spirit: of God enough to last you a week— & where we can instruct you in genl.— all the money shall be laid out as it is directed— I am one of the Committee— the Com: tell me the Quarry is blockaded. The Stone Cutters are wanting work it is not necessary for me to tell you who will come— I will prophesy you will do it— there is not one in the who will not do it— except a few— I described them once & you will always know them when you see them— they will keep hopping till they hop out of Town some are Tree Toads who climb the Trees & are continually croaking—
we
are now the most noble people on the face of the Globe & we have no occasion to fear tadpoles or Tree Toads— we never should give out our judgment. till we hear both sides— A certain. Dutchman had a cause brought & heard one side & he said. By Sure you have got the case & when the other. party brot. their witness he sd. again. by sure & you have got the case— if you hear of any one high in authority. appears to apostacy dont cast out any thing against him but pray for him— I take a stand above all other nasty things— do you suppose we are going to bring difficulties before you
——
no I do not want to trouble them with it— there is not a man who has had a difficulty— who wod. trouble this congregation. about. it— let them settle it themselves— dont think any thing abt. persons who are on the eve of apostacy— God will take care of them— there has been a great deal of bickering abt. the Messrs. Laws Steam Mill— it has been a great benefit to this — it has advanced the benefit of the — it has brought in thousands who would not have come here but as they saw that the Mormons had no horns they have got a good by it— the Messrs. Laws have done a great deal of good & when we can see any thing in the conspiracy it was the rascal who presumed upon them. & I do not believe that the Messrs. Laws would do any thing against me— it was the rascal who did it— he did it & I wod. not believe if he was to swear on a Stack of Bibles as big as Mount Etna— oppression never drove the devil from the heart of any man— it is natural for a man to be lead & not to be driven. put down iniquity by good works— many men speak without any contemplation but when they have a little contemplation: it wod. not have been spoken
——
cast over the mantle of charity over them to cover their faults— do unto others what you have them to do to you— it is well enough to root out [p. 13]