Home

>
Minutes and Discourses, 6–9 April 1844, as Reported by Thomas Bullock
Source Note

General conference of the church, Minutes, and JS, Discourses, Nauvoo, Hancock Co., IL, 6–9 Apr. 1844; handwriting of ; dockets in handwriting of ; forty-one pages; General Church Minutes, CHL.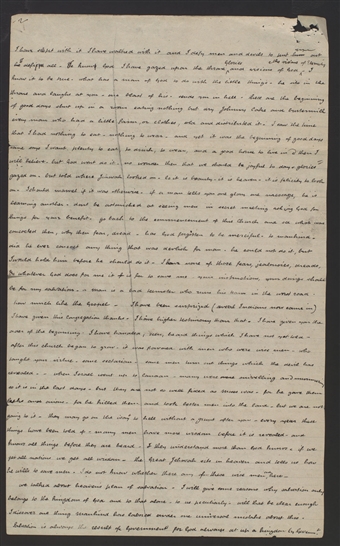 I have slept with it I have walked with it and I defy men and devils to put
him
<​me​> out
he
<​I​>
defied
<​defy​> all—
he
<​I​> know
s
God I have gazed upon the throne <​Glories​> and visions of God <​& the visions of Eternity​>— I know it to be true— what has a man of God to do with the little things— he sits in the throne and laughs at you— one blast of his— sends you in hell— these are the beginning of good days shut up in a room eating nothing but dry Johnny Cake and buttermilk every man who had a little farm, or clothes, sold and distributed it— I saw the time that I had nothing to eat— nothing to wear— and yet it was the beginning of good days some says I want plenty to eat, to drink, to wear, and a good house to live in & then I will believe— but God wont do it— no wonder then that we should be joyful to day— glories gazed on— but told where Jehovah looked on— lo it is beauty— it is heaven— it is felicity to look on— I should marvel if it was otherwise— if a man tells you one glory one message, he is learning another— dont be astonished at seeing men in secret meeting asking God for things for your benefit— go back to the commencement of this Church and see what was concocted then, why then fear, dread— has god forgotten to be merciful— to mankind— did he ever concock any thing that was devlish for man— he could not do it, but I would hold him before he should do it— I have none of those fears, jealousies, dreads, &c whatever God does for me it is for to save me— your instructions, your doings shall be for my salvation— a man is a bad teemster who runs his team in the worst road— how much like the Gospel— I have been surprized (several Indians now came in) I have given this congregation thanks— I have higher testimony than that. I have given you the order of the beginning. I have handled, seen, heard things which I have not yet told— after this church began to grow— it was favored with men who were wise men— who taught your virtue— some sectarian— some men turn out things which the devil has revealed
——
when Israel went up to Canaan— many were
were
snivelling and murmuring so it is in the last days— but they are not so well fixed as Moses was— for he gave them leeks and onions— for he killed them— and took better men into the land— but we are not going to it— they may go on the way to hell without a grunt after you— every year these things have been told of— many men have more wisdom before it is revealed— and knows all things before they are heard—
I
they understand more than God knows— if we get all nations we get all wisdom— the Great Jehovah sits in heaven and tells us how he wills to save men— I do not know whether there any
are
of these wise men, <​are​> here—
we talked about heaven's plan of salvation— I will give some reasons why salvation only belongs to the kingdom of God and to that alone— to us peculiarly— will that be clear enough I discover one thing mankind has labored under one universal mistake about this— Salvation is always the result of Government for God always set up a kingdom by Govern
t.
[p. 2]
I have slept with it I have walked with it and I defy men and devils to put me out I defy all— I know God I have gazed upon the throne Glories and visions of God & the visions of Eternity— I know it to be true— what has a man of God to do with the little things— he sits in the throne and laughs at you— one blast of his— sends you in hell— these are the beginning of good days shut up in a room eating nothing but dry Johnny Cake and buttermilk every man who had a little farm, or clothes, sold and distributed it— I saw the time that I had nothing to eat— nothing to wear— and yet it was the beginning of good days some says I want plenty to eat, to drink, to wear, and a good house to live in & then I will believe— but God wont do it— no wonder then that we should be joyful to day— glories gazed on— but told where Jehovah looked on— lo it is beauty— it is heaven— it is felicity to look on— I should marvel if it was otherwise— if a man tells you one glory one message, he is learning another— dont be astonished at seeing men in secret meeting asking God for things for your benefit— go back to the commencement of this Church and see what was concocted then, why then fear, dread— has god forgotten to be merciful— to mankind— did he ever concock any thing that was devlish for man— he could not do it, but I would hold him before he should do it— I have none of those fears, jealousies, dreads, &c whatever God does for me it is for to save me— your instructions, your doings shall be for my salvation— a man is a bad teemster who runs his team in the worst road— how much like the Gospel— I have been surprized (several Indians now came in) I have given this congregation thanks— I have higher testimony than that. I have given you the order of the beginning. I have handled, seen, heard things which I have not yet told— after this church began to grow— it was favored with men who were wise men— who taught your virtue— some sectarian— some men turn out things which the devil has revealed
——
when Israel went up to Canaan— many were snivelling and murmuring so it is in the last days— but they are not so well fixed as Moses was— for he gave them leeks and onions— for he killed them— and took better men into the land— but we are not going to it— they may go on the way to hell without a grunt after you— every year these things have been told of— many men have more wisdom before it is revealed— and knows all things before they are heard— they understand more than God knows— if we get all nations we get all wisdom— the Great Jehovah sits in heaven and tells us how he wills to save men— I do not know whether there any of these wise men, are here—
we talked about heaven's plan of salvation— I will give some reasons why salvation only belongs to the kingdom of God and to that alone— to us peculiarly— will that be clear enough I discover one thing mankind has labored under one universal mistake about this— Salvation is always the result of Government for God always set up a kingdom by Governt. [p. 2]