Minutes and Discourses, 6–9 April 1844, as Reported by Thomas Bullock
Source Note

General conference of the church, Minutes, and JS, Discourses, Nauvoo, Hancock Co., IL, 6–9 Apr. 1844; handwriting of ; dockets in handwriting of ; forty-one pages; General Church Minutes, CHL.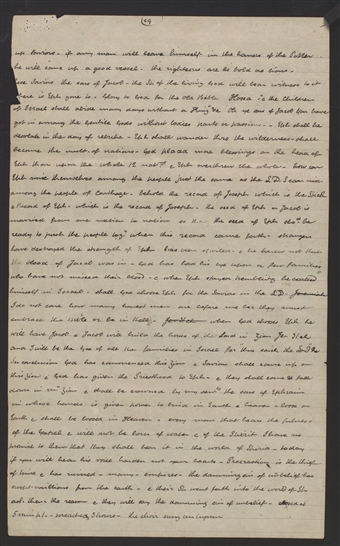 up Saviors— if any man will leave himself in the hands of the Potter he will come up a good vessel— the righteous are as bold as lions— [t]hese Saviors the sons of Jacob— the Sp of the living God will bear witness to it [w]here is Eph[raim] gone to— Glory to God for the old Bible Hosea— "& the Children of Israel shall abide many days without a King" &c Oh ye sons of Jacob You have got in among the Gentile Gods without bodies parts or passions
——
Eph shall be desolate in the day of rebuke— Eph shall wander thro the wilderness— shall become the mult[itude] of nations— God placed more blessings on the head of Eph than upon the whole 12 nat
ns

.
& Eph overthrew the whole— how can Eph mix themselves among the people just the same as the L D. S can mix among the people of — behold the record of Joseph which is the Stick & Record of Eph— which is the record of Joseph— the seed of Eph or Jacob is married from one nation to nation so that the seed of Eph sho
d
be ready to push the people tog
r.
when this record came forth— strangers have destroyed the strength of Eph has been spoiled— & he knew not that the blood of Jacob was in— God has had his eye upon a few families who have not mixed their blood— & when Eph stayed trembling he exalted himself in Israel— shall God choose Eph for the Saviors in the L D—
Jeremiah
I do not care how many honest men are before me bec[ause] they must embrace the Bible or be in Hell—
Jer 31 ch
when God chooses Eph he will have Jacob & Jacob will build the house of the Lord in Zion Jer 31 ch and I will be the God of all the families in Israel for "thus saith the Lord" &c
In conclusion God has commenced this Zion & Saviors shall come up on this Zion & God has given the Priesthood to Eph— & they shall come & fall down in m
t.
Zion & shall be crowned by my serv
ts.
the sons of Ephraim in whose hands is given power to bind in Earth & heaven— loose on Earth & shall be loosed in Heaven— every man that hears the fulness of the Gospel & will not be born of water & of the Spirit— I have no promise to them that they shall hear it in the world of Spirits— today if you will hear his voice harden not your hearts— Procras[tina]tion is the thief of time & has ruined— many— empires— the damning sin of unbelief has swept millions from the earth— & their Sp went forth into the world of Sp ask them the reason & they will say the damning sin of unbelief— closed at 5 min to 1. —preached 3 hours — the choir sung a hymn [p. 29]
up Saviors— if any man will leave himself in the hands of the Potter he will come up a good vessel— the righteous are as bold as lions— these Saviors the sons of Jacob— the Sp of the living God will bear witness to it where is Ephraim gone to— Glory to God for the old Bible Hosea— "& the Children of Israel shall abide many days without a King" &c Oh ye sons of Jacob You have got in among the Gentile Gods without bodies parts or passions
——
Eph shall be desolate in the day of rebuke— Eph shall wander thro the wilderness— shall become the multitude of nations— God placed more blessings on the head of Eph than upon the whole 12 nat
ns
. & Eph overthrew the whole— how can Eph mix themselves among the people just the same as the L D. S can mix among the people of — behold the record of Joseph which is the Stick & Record of Eph— which is the record of Joseph— the seed of Eph or Jacob is married from one nation to nation so that the seed of Eph sho
d
be ready to push the people togr. when this record came forth— strangers have destroyed the strength of Eph has been spoiled— & he knew not that the blood of Jacob was in— God has had his eye upon a few families who have not mixed their blood— & when Eph stayed trembling he exalted himself in Israel— shall God choose Eph for the Saviors in the L D— I do not care how many honest men are before me because they must embrace the Bible or be in Hell— when God chooses Eph he will have Jacob & Jacob will build the house of the Lord in Zion Jer 31 ch and I will be the God of all the families in Israel for "thus saith the Lord" &c
In conclusion God has commenced this Zion & Saviors shall come up on this Zion & God has given the Priesthood to Eph— & they shall come & fall down in mt.Zion & shall be crowned by my servts. the sons of Ephraim in whose hands is given power to bind in Earth & heaven— loose on Earth & shall be loosed in Heaven— every man that hears the fulness of the Gospel & will not be born of water & of the Spirit— I have no promise to them that they shall hear it in the world of Spirits— today if you will hear his voice harden not your hearts— Procrastination is the thief of time & has ruined— many— empires— the damning sin of unbelief has swept millions from the earth— & their Sp went forth into the world of Sp ask them the reason & they will say the damning sin of unbelief— closed at 5 min to 1. —preached 3 hours — the choir sung a hymn [p. 29]