Home

>
Minutes and Discourses, 6–9 April 1844, as Reported by Thomas Bullock
Source Note

General conference of the church, Minutes, and JS, Discourses, Nauvoo, Hancock Co., IL, 6–9 Apr. 1844; handwriting of ; dockets in handwriting of ; forty-one pages; General Church Minutes, CHL.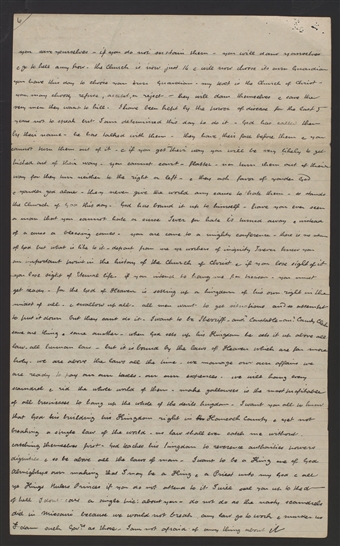 you save yourselves— if you do not sustain them— you will dam yourselves & go to hell any how— the Church is now just 14 & will now choose its own Guardian you have this day to choose your own Guardian— my text is the church of Christ— you may choose, refuse, accept, or reject— they will dam themselves & save the very men they want to kill. I have been kept by the power of disease for the last 5 years not to speak but I am determined this day to do it— God has called them by their name— he has talked with them— they have their face before them & you cannot turn them out of it— & if you get <​in​> their way you will be very likely to get kicked out of their way— you cannot court— flatter— nor turn them out of their way for they turn neither to the right or left— & they ask favor of yonder God & yonder god alone— they never give the world any cause to hate them— so stands the Church of God this day— God has bound it up to himself— have you ever seen a man that you cannot hate or curse I ever for hate is turned away & instead of a curse a blessing comes— you are come to a mighty conference— there is no man of God but what is like to it— depart from me ye workers of iniquity I never knew you an important point in the history of the Church of Christ & if you lose sight of it you lose sight of Eternal life. if you intend to hang me for treason— you must get ready— for the God of Heaven is setting up a kingdom of his own right in the midst of all— & swallow up all— all men want to get situations and so attempt to put it down but they cant do it— I want to be Sherriff— ano[the]
r.
Constable— an
r.
County Clerk some one thing & some another— when God sets up his Kingdom he sets it up above all law. all human law— but it is bound by the laws of Heaven which are far more holy. we are above the laws all the time— we manage our own affairs we are ready to pay our own taxes— our own expences— we will hang every scoundrel & rid the whole world of them— make gallowses is the most profitable of all businesses to hang up the whole of the devils kingdom— I want you all to know that God
h
is building his Kingdom right in
the
& yet not breaking a single law of the world— no law shall ever catch me without catching themselves first— God teaches his kingdom to reverence authorities powers dignities & so be above all the laws of man— I want to be a King one of God Almighty's own making that I may be a King & a Priest unto my God & all ye Kings Rulers Princes if you do not attend to it I will seal you up to the d
——
of hell I dont care a single lick: about you— do not do as the nasty soundrels did in because we would not break any law go to work & murder us I dam such Gov[erno]
rs.
as those— I am not afraid of any thing about it [p. 6]
you save yourselves— if you do not sustain them— you will dam yourselves & go to hell any how— the Church is now just 14 & will now choose its own Guardian you have this day to choose your own Guardian— my text is the church of Christ— you may choose, refuse, accept, or reject— they will dam themselves & save the very men they want to kill. I have been kept by the power of disease for the last 5 years not to speak but I am determined this day to do it— God has called them by their name— he has talked with them— they have their face before them & you cannot turn them out of it— & if you get in their way you will be very likely to get kicked out of their way— you cannot court— flatter— nor turn them out of their way for they turn neither to the right or left— & they ask favor of yonder God & yonder god alone— they never give the world any cause to hate them— so stands the Church of God this day— God has bound it up to himself— have you ever seen a man that you cannot hate or curse I ever for hate is turned away & instead of a curse a blessing comes— you are come to a mighty conference— there is no man of God but what is like to it— depart from me ye workers of iniquity I never knew you an important point in the history of the Church of Christ & if you lose sight of it you lose sight of Eternal life. if you intend to hang me for treason— you must get ready— for the God of Heaven is setting up a kingdom of his own right in the midst of all— & swallow up all— all men want to get situations and so attempt to put it down but they cant do it— I want to be Sherriff— another. Constable— anr. County Clerk some one thing & some another— when God sets up his Kingdom he sets it up above all law. all human law— but it is bound by the laws of Heaven which are far more holy. we are above the laws all the time— we manage our own affairs we are ready to pay our own taxes— our own expences— we will hang every scoundrel & rid the whole world of them— make gallowses is the most profitable of all businesses to hang up the whole of the devils kingdom— I want you all to know that God is building his Kingdom right in & yet not breaking a single law of the world— no law shall ever catch me without catching themselves first— God teaches his kingdom to reverence authorities powers dignities & so be above all the laws of man— I want to be a King one of God Almighty's own making that I may be a King & a Priest unto my God & all ye Kings Rulers Princes if you do not attend to it I will seal you up to the d
——
of hell I dont care a single lick: about you— do not do as the nasty soundrels did in because we would not break any law go to work & murder us I dam such Governors. as those— I am not afraid of any thing about it [p. 6]