Home

>
History, 1838–1856, volume D-1 [1 August 1842–1 July 1843]
Source Note

JS, History, 1838–1856, vol. D-1, created 4 July 1845–4 Feb. 1846 and 1 July 1854–2 May 1855; handwriting of , Robert L. Campbell, and ; 275 pages, plus 6 pages of addenda; CHL. This is the fourth volume of a six-volume manuscript history of the church. This fourth volume covers the period from 1 Aug. 1842 to 1 July 1843; the remaining five volumes, labeled A-1, B-1, C-1, E-1 and F-1, continue through 8 Aug. 1844.

Historical Introduction

The 274 pages of volume D-1 contain a record of much that is significant in the life of JS and the development of the church he founded. Among these events are

Footnotes

1

Historian's Office, Journal, 3 and 4 July 1845.  

2

Historian's Office, Journal, 1 July 1854.  

3

Historian's Office, Journal, 2 May 1855.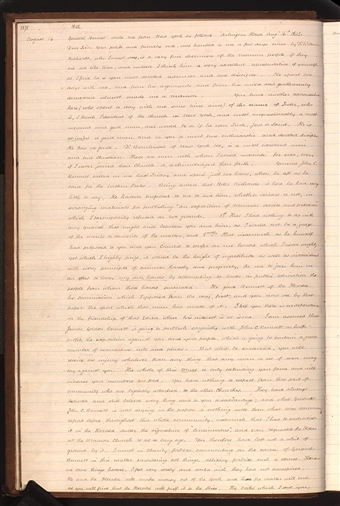 <​August 16​> wrote me from as follows
" Aug
t.
16
th.
1842— Dear Sir:— Your polite and friendly note, was handed to me a few days since by D
r.
, who I must say, is very fine specimen of the Mormon people if they are all like him, and indeed I think him a very excellent representative of yourself as I find he is your most devoted admirer and true disciple. He spent two days with me, and from his arguments and from his mild and gentlemanly demeanor almost made me a Mormon. You have another representative here (who spent a day with me some time since) of the name of , who is, I think President of the Church in , and most unquestionably a most excellent and good man, and would be so if he were Turk, Jew or Saint. He is
ab initio
a good man, and to you a most true enthusiastic and devoted disciple He has no guile— of too, is a most excellent man and true Christian. These are men with whom I could associate for ever, even if I never joined their Church of acknowledged their faith. General called on me last Friday and spent just two hours, when he left as he said for the Eastern States. Being aware that is here he had very little to say. He however proposed to me to aid him, whether serious or not, in arranging materials for publishing "an exposition of Mormon secrets and practices" which I peremptorily refused on two grounds. 1
st

.
That I had nothing to do with any quarrel that might arise [HC 5:112] between you and him, as I could not be a judge of the merits or demerits of the matter, and 2
ndly

.
That inasmuch as he himself had proposed to you and your Council to confer on me honors which I never sought, yet which I highly prize, it would be the height of ingratitude as well as inconsistent with every principle of common honesty and propriety, for me to join him in an effort to lower
my own honors
by attempting to lower in public estimation the people from whom those honors emanated. He gave of the Herald his Commission which I opposed from the very first, and you now see by that paper the sport which that man has made of it. I tell you there is no dependence on the friendship of that when his interest is at issue. I am assured that is going to publish conjointly with on half profit, the exposition against you and your people, which is going to contain a great number of scandalous cuts and plates— But don't be concerned, you will receive no injury whatever from any thing that any man or set of men may say against you. The whole of this
Muss
is only extending your fame and will increase your numbers ten fold. You have nothing to expect from that part of community who are bigotedly attached to the other Churches. They have always believed and still believe every thing said to your disadvantage; and what General is now saying in the papers is nothing more than what was common report before throughout this whole community, insomuch that I had to contradict it in the Herald under the signature of "Cincinnatus", and even requested the Elders at the Mormon Church to do so long ago. You therefore have lost not a whit of ground by it. I must in Charity forbear commenting on the course of in this matter considering all things, delicacy forbids such a course. There are some things however, I feel very sorely and could wish they had not transpired. He and the Herald will make money out of the Book and there the matter will end as you will find that the Herald will puff it to the Skies. The books which I sent you, [p. 1375]
August 16 wrote me from as follows
" Augt. 16th. 1842— Dear Sir:— Your polite and friendly note, was handed to me a few days since by Dr. , who I must say, is very fine specimen of the Mormon people if they are all like him, and indeed I think him a very excellent representative of yourself as I find he is your most devoted admirer and true disciple. He spent two days with me, and from his arguments and from his mild and gentlemanly demeanor almost made me a Mormon. You have another representative here (who spent a day with me some time since) of the name of , who is, I think President of the Church in , and most unquestionably a most excellent and good man, and would be so if he were Turk, Jew or Saint. He is
ab initio
a good man, and to you a most true enthusiastic and devoted disciple He has no guile— of too, is a most excellent man and true Christian. These are men with whom I could associate for ever, even if I never joined their Church of acknowledged their faith. General called on me last Friday and spent just two hours, when he left as he said for the Eastern States. Being aware that is here he had very little to say. He however proposed to me to aid him, whether serious or not, in arranging materials for publishing "an exposition of Mormon secrets and practices" which I peremptorily refused on two grounds. 1
st
. That I had nothing to do with any quarrel that might arise [HC 5:112] between you and him, as I could not be a judge of the merits or demerits of the matter, and 2
ndly
. That inasmuch as he himself had proposed to you and your Council to confer on me honors which I never sought, yet which I highly prize, it would be the height of ingratitude as well as inconsistent with every principle of common honesty and propriety, for me to join him in an effort to lower
my own honors
by attempting to lower in public estimation the people from whom those honors emanated. He gave of the Herald his Commission which I opposed from the very first, and you now see by that paper the sport which that man has made of it. I tell you there is no dependence on the friendship of that when his interest is at issue. I am assured that is going to publish conjointly with on half profit, the exposition against you and your people, which is going to contain a great number of scandalous cuts and plates— But don't be concerned, you will receive no injury whatever from any thing that any man or set of men may say against you. The whole of this
Muss
is only extending your fame and will increase your numbers ten fold. You have nothing to expect from that part of community who are bigotedly attached to the other Churches. They have always believed and still believe every thing said to your disadvantage; and what General is now saying in the papers is nothing more than what was common report before throughout this whole community, insomuch that I had to contradict it in the Herald under the signature of "Cincinnatus", and even requested the Elders at the Mormon Church to do so long ago. You therefore have lost not a whit of ground by it. I must in Charity forbear commenting on the course of in this matter considering all things, delicacy forbids such a course. There are some things however, I feel very sorely and could wish they had not transpired. He and the Herald will make money out of the Book and there the matter will end as you will find that the Herald will puff it to the Skies. The books which I sent you, [p. 1375]