Home

>
History, 1838–1856, volume D-1 [1 August 1842–1 July 1843]
Source Note

JS, History, 1838–1856, vol. D-1, created 4 July 1845–4 Feb. 1846 and 1 July 1854–2 May 1855; handwriting of , Robert L. Campbell, and ; 275 pages, plus 6 pages of addenda; CHL. This is the fourth volume of a six-volume manuscript history of the church. This fourth volume covers the period from 1 Aug. 1842 to 1 July 1843; the remaining five volumes, labeled A-1, B-1, C-1, E-1 and F-1, continue through 8 Aug. 1844.

Historical Introduction

The 274 pages of volume D-1 contain a record of much that is significant in the life of JS and the development of the church he founded. Among these events are

Footnotes

1

Historian's Office, Journal, 3 and 4 July 1845.  

2

Historian's Office, Journal, 1 July 1854.  

3

Historian's Office, Journal, 2 May 1855.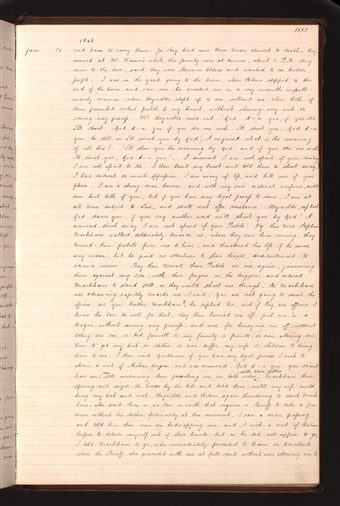 <​June 23​> and team to carry them, for they had run their horses almost to death. they arrived at M
r.
Wasson's while the family were at dinner, about 2 P.M. they came to the door, said they were Mormon Elders and wanted to see brother Joseph. I was in the yard going to the Barn, when stepped to the end of the house and saw me; he accosted me in a very uncouth ungentlemanly manner, when stept up to me, collared me, when both of them presented cocked pistols to my breast, without shewing any writ or serving any process. cried out "God d—n you, if you stir I'll shoot, God d—n you if you stir one inch I'll shoot you, God d—n you be still, or I'll shoot you by God," I enquired what is the meaning of all this? "I'll shew you the meaning by God, and if you stir one inch I'll shoot you God d—n you". I answered I am not afraid of your shooting I am not afraid to die, I then bared my breast and told them to shoot away, I have endured so much oppression, I am weary of life, and kill me if you please. I am a strong man however, and with my own natural weapons, could soon level both of you, but if you have any legal process to serve, I am at all times subject to Law, and shall not offer resistance. replied God damn you if you say another word we'll shoot you by God." I answered shoot away I am not afraid of your Pistols. By this time walked deliberately towards us, when they saw him coming, they turned their pistols from me to him, and threatened his life if he came any nearer, but he paid no attention to their threats, <​and​> continued to advance nearer. They then turned their Pistols on me again, jamming them against my side, with their fingers on the triggers, and ordered to stand still or they would shoot me through. As was advancing [HC 5:440] rapidly towards me, I said. You are not going to resist the officers, are you brother ? he replied No, not if they are officers. I know the law too well for that. they then hurried me off, put me in a Wagon without serving any process, and were for hurrying me off without letting me see, or bid farewell to my family or friends, or even allowing me time to get my hat or clothes, or even suffer my wife or children to bring them to me. I then said Gentlemen if you have any legal process I wish to obtain a writ of and was answered "God d—n you, you shant have one". <​They​> still continuing their punching me on both sides <​with their pistols​>. then sprung and seized the horses by the bits and held them, until my wife could bring my hat and coat. and again threatening to shoot , who said there is no law on earth that requires a Sheriff to take a prisoner without his clothes. fortunately at this moment, I saw a man passing, and told him these men are kidnapping me, and I wish a writ of Habeas Corpus to deliver myself out of their hands, but as he did not appear to go, I told to go, who immediately proceeded to on horseback where the also proceeded with me at full speed without even allowing me to [p. 1582]
June 23 and team to carry them, for they had run their horses almost to death. they arrived at Mr. Wasson's while the family were at dinner, about 2 P.M. they came to the door, said they were Mormon Elders and wanted to see brother Joseph. I was in the yard going to the Barn, when stepped to the end of the house and saw me; he accosted me in a very uncouth ungentlemanly manner, when stept up to me, collared me, when both of them presented cocked pistols to my breast, without shewing any writ or serving any process. cried out "God d—n you, if you stir I'll shoot, God d—n you if you stir one inch I'll shoot you, God d—n you be still, or I'll shoot you by God," I enquired what is the meaning of all this? "I'll shew you the meaning by God, and if you stir one inch I'll shoot you God d—n you". I answered I am not afraid of your shooting I am not afraid to die, I then bared my breast and told them to shoot away, I have endured so much oppression, I am weary of life, and kill me if you please. I am a strong man however, and with my own natural weapons, could soon level both of you, but if you have any legal process to serve, I am at all times subject to Law, and shall not offer resistance. replied God damn you if you say another word we'll shoot you by God." I answered shoot away I am not afraid of your Pistols. By this time walked deliberately towards us, when they saw him coming, they turned their pistols from me to him, and threatened his life if he came any nearer, but he paid no attention to their threats, and continued to advance nearer. They then turned their Pistols on me again, jamming them against my side, with their fingers on the triggers, and ordered to stand still or they would shoot me through. As was advancing [HC 5:440] rapidly towards me, I said. You are not going to resist the officers, are you brother ? he replied No, not if they are officers. I know the law too well for that. they then hurried me off, put me in a Wagon without serving any process, and were for hurrying me off without letting me see, or bid farewell to my family or friends, or even allowing me time to get my hat or clothes, or even suffer my wife or children to bring them to me. I then said Gentlemen if you have any legal process I wish to obtain a writ of and was answered "God d—n you, you shant have one". They still continuing their punching me on both sides with their pistols. then sprung and seized the horses by the bits and held them, until my wife could bring my hat and coat. and again threatening to shoot , who said there is no law on earth that requires a Sheriff to take a prisoner without his clothes. fortunately at this moment, I saw a man passing, and told him these men are kidnapping me, and I wish a writ of Habeas Corpus to deliver myself out of their hands, but as he did not appear to go, I told to go, who immediately proceeded to on horseback where the also proceeded with me at full speed without even allowing me to [p. 1582]