Home

>
History, 1838–1856, volume D-1 [1 August 1842–1 July 1843]
Source Note

JS, History, 1838–1856, vol. D-1, created 4 July 1845–4 Feb. 1846 and 1 July 1854–2 May 1855; handwriting of , Robert L. Campbell, and ; 275 pages, plus 6 pages of addenda; CHL. This is the fourth volume of a six-volume manuscript history of the church. This fourth volume covers the period from 1 Aug. 1842 to 1 July 1843; the remaining five volumes, labeled A-1, B-1, C-1, E-1 and F-1, continue through 8 Aug. 1844.

Historical Introduction

The 274 pages of volume D-1 contain a record of much that is significant in the life of JS and the development of the church he founded. Among these events are

Footnotes

1

Historian's Office, Journal, 3 and 4 July 1845.  

2

Historian's Office, Journal, 1 July 1854.  

3

Historian's Office, Journal, 2 May 1855.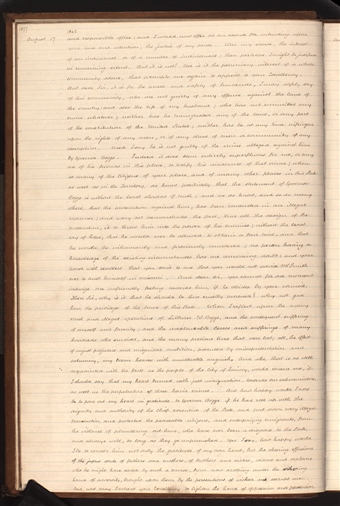 <​August 17​> and responsible office; and I would now offer as an excuse for intruding upon your time and attention, the justice of my cause. Was my cause, the interest of an individual or of a number of individuals; then perhaps I might be justified in remaining silent. But it is not! Nor is it the pecuniary interest of a whole community alone, that prompts me again to appeal to your . But dear Sir, it is for the peace and safety of hundreds, I may safely say of this community, who are not guilty of any offence against the laws of the Country; and also the life of my husband; who has not committed any crime whatever; neither has he transgressed any of the laws, or any part of the constitution of the ; neither has he at any time infringed upon the rights of any man, or of any class of men or com[HC 5:115]munity of any description. Need I say he is not guilty of the crime alleged against him by . Indeed it does seem entirely superfluous for me, or any one of his friends in this place, to testify his innocence of that crime; when so many of the Citizens of your place, and of many other places in this as well as in the , do know positively that the statement of is without the least shadow of truth; and we do know, and so do many others, that the prosecution against him, has been conducted in an illegal manner; and every act demonstrates the fact, that all the design of the prosecution, is to throw him into the power of his enemies; without the least ray of hope, that he would ever be allowed to obtain a fair trial, and that he would be inhumanly and ferociously murdered; no person having a knowledge of the existing circumstances has one remaining doubt: and your will recollect that you said to me that you would not advise M
r.
Smith ever to trust himself in . And dear sir, you cannot for one moment indulge one unfriendly feeling towards him, if he abides by your council. Then Sir, why is it that he should be thus cruelly pursued? why not give him the privilege of the laws of this . When I reflect upon the many cruel and illegal operations of , and the consequent suffering of myself and family; and the incalculable losses and sufferings of many hundreds who survived, and the many precious lives that were lost; all, the effect of unjust prejudice and misguided ambition, produced by misrepresentation and calumny, my bosom heaves with unutterable anguish. And who, that is as well acquainted with the facts as the people of the City of , would censure me, if I should say that my heart burned with just indignation, towards our calumniators, as well as the perpetrators of those horrid crimes. But how happy would I now be to pour out my heart in gratitude to if he had rose up with the dignity and authority of the Chief executive of the , and put down every illegal transaction, and protected the peaceable citizens, and enterprizing emigrants, from the violence of plundering out-laws, who have ever been a disgrace to the , and always will, so long as they go unpunished. Yes I say, how happy would I be to render him not only the gratitude of my own heart, but the cheering effusions of the joyous souls of fathers and mothers, of brothers and sisters, widows and orphans who he might have saved by such a course, from now drooping under the withering hand of adversity, brought upon them by the persecutions of wicked and corrupt men. And now may I entreat your to lighten the hand of oppression and persecution, [p. 1377]
August 17 and responsible office; and I would now offer as an excuse for intruding upon your time and attention, the justice of my cause. Was my cause, the interest of an individual or of a number of individuals; then perhaps I might be justified in remaining silent. But it is not! Nor is it the pecuniary interest of a whole community alone, that prompts me again to appeal to your . But dear Sir, it is for the peace and safety of hundreds, I may safely say of this community, who are not guilty of any offence against the laws of the Country; and also the life of my husband; who has not committed any crime whatever; neither has he transgressed any of the laws, or any part of the constitution of the ; neither has he at any time infringed upon the rights of any man, or of any class of men or com[HC 5:115]munity of any description. Need I say he is not guilty of the crime alleged against him by . Indeed it does seem entirely superfluous for me, or any one of his friends in this place, to testify his innocence of that crime; when so many of the Citizens of your place, and of many other places in this as well as in the , do know positively that the statement of is without the least shadow of truth; and we do know, and so do many others, that the prosecution against him, has been conducted in an illegal manner; and every act demonstrates the fact, that all the design of the prosecution, is to throw him into the power of his enemies; without the least ray of hope, that he would ever be allowed to obtain a fair trial, and that he would be inhumanly and ferociously murdered; no person having a knowledge of the existing circumstances has one remaining doubt: and your will recollect that you said to me that you would not advise Mr. Smith ever to trust himself in . And dear sir, you cannot for one moment indulge one unfriendly feeling towards him, if he abides by your council. Then Sir, why is it that he should be thus cruelly pursued? why not give him the privilege of the laws of this . When I reflect upon the many cruel and illegal operations of , and the consequent suffering of myself and family; and the incalculable losses and sufferings of many hundreds who survived, and the many precious lives that were lost; all, the effect of unjust prejudice and misguided ambition, produced by misrepresentation and calumny, my bosom heaves with unutterable anguish. And who, that is as well acquainted with the facts as the people of the City of , would censure me, if I should say that my heart burned with just indignation, towards our calumniators, as well as the perpetrators of those horrid crimes. But how happy would I now be to pour out my heart in gratitude to if he had rose up with the dignity and authority of the Chief executive of the , and put down every illegal transaction, and protected the peaceable citizens, and enterprizing emigrants, from the violence of plundering out-laws, who have ever been a disgrace to the , and always will, so long as they go unpunished. Yes I say, how happy would I be to render him not only the gratitude of my own heart, but the cheering effusions of the joyous souls of fathers and mothers, of brothers and sisters, widows and orphans who he might have saved by such a course, from now drooping under the withering hand of adversity, brought upon them by the persecutions of wicked and corrupt men. And now may I entreat your to lighten the hand of oppression and persecution, [p. 1377]