Home

>
History, 1838–1856, volume D-1 [1 August 1842–1 July 1843]
Source Note

JS, History, 1838–1856, vol. D-1, created 4 July 1845–4 Feb. 1846 and 1 July 1854–2 May 1855; handwriting of , Robert L. Campbell, and ; 275 pages, plus 6 pages of addenda; CHL. This is the fourth volume of a six-volume manuscript history of the church. This fourth volume covers the period from 1 Aug. 1842 to 1 July 1843; the remaining five volumes, labeled A-1, B-1, C-1, E-1 and F-1, continue through 8 Aug. 1844.

Historical Introduction

The 274 pages of volume D-1 contain a record of much that is significant in the life of JS and the development of the church he founded. Among these events are

Footnotes

1

Historian's Office, Journal, 3 and 4 July 1845.  

2

Historian's Office, Journal, 1 July 1854.  

3

Historian's Office, Journal, 2 May 1855.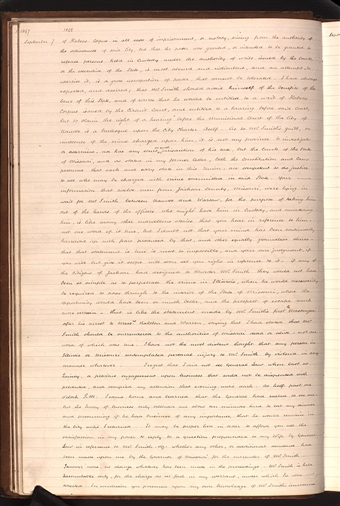 <​September 7​> of in all cases of imprisonment, or custody, arising from the authority of the ordinances of said , but that the power was granted, or intended to be granted to release persons held in Custody under the authority of writs issued by the Courts, or the executive of the , is most absurd and ridiculous, and an attempt to exercise it, is a gross usurpation of power, that cannot be tolerated. I have always expected, and desired; that M
r.
Smith should avail himself of the benefits of the laws of this , and of course that he would be entitled to a writ of Habeas Corpus issued by the Circuit Court, and entitled to a hearing before said Court, but to claim the right of a hearing before the Municipal Court of the City of is a burlesque upon the City Charter itself. As to M
r.
Smith's guilt, or innocence of the crime charged upon him, it is not my province to investigate or determine, nor has any court <​on earth​> jurisdiction of his case, but the Courts of the State of , and as stated in my former letter, both the Constitution and laws presume that each and every state in this Union, are competent to do justice to all who may be charged with crime committed in said State. Your
——
information that twelve men from , Missouri, were lying in wait for M
r.
Smith between and , for the purpose of taking him out of the hands of the officers who might have him in Custody, and murdering him, is like many other marvellous stories that you hear in reference to him— not one word of it true, but I doubt not that your mind has been continually harrowed up with the fears produced by that, and other equally groundless stories— that that statement is true is next to impossible, and your own judgment, if you will but give it scope will soon set you right in reference to it. [HC 5:154] if any of the Citizens of had designed to Murder M
r.
Smith they would not have been so simple as to perpetrate the crime in , when he would necessarily be required to pass through to the interior of the State of , where the opportunity would have been so much better, and the prospect of escape much more certain— that is like the statement made by M
r.
Smith's first Messenger after his arrest to Mess
rs.
and , saying that I had stated that M
r.
Smith should be surrendered to the authorities dead or alive— not one word of which was true. I have not the most distant thought that any person in or contemplated personal injury to M
r.
Smith by violence in any manner whatever. I regret that I did not see when last at , a previous engagement upon business that could not be dispensed with prevented, and occupied my attention that evening until dark. At half past one o'clock P.M. I came home and learned that the had called to see me— but the hurry of business only allowed me about ten minutes time to eat my dinner and presuming if he had business of any importance, that he would remain in the until I returned. It may be proper here in order to afford you all the satisfaction in my power to reply to a question propounded to my Wife by in referrence to M
r.
Smith. viz— whether any other, or additional demand had been made upon me by the of for the surrender of M
r.
Smith I answer none, no change whatever has been made in the proceedings— M
r.
Smith is held accountable only, for the charge as set forth in my warrant, under which he was
——
arrested. In conclusion you presume upon my own knowledge of M
r.
Smith's innocence [p. 1397]
September 7 of in all cases of imprisonment, or custody, arising from the authority of the ordinances of said , but that the power was granted, or intended to be granted to release persons held in Custody under the authority of writs issued by the Courts, or the executive of the , is most absurd and ridiculous, and an attempt to exercise it, is a gross usurpation of power, that cannot be tolerated. I have always expected, and desired; that Mr. Smith should avail himself of the benefits of the laws of this , and of course that he would be entitled to a writ of Habeas Corpus issued by the Circuit Court, and entitled to a hearing before said Court, but to claim the right of a hearing before the Municipal Court of the City of is a burlesque upon the City Charter itself. As to Mr. Smith's guilt, or innocence of the crime charged upon him, it is not my province to investigate or determine, nor has any court on earth jurisdiction of his case, but the Courts of the State of , and as stated in my former letter, both the Constitution and laws presume that each and every state in this Union, are competent to do justice to all who may be charged with crime committed in said State. Your
——
information that twelve men from , Missouri, were lying in wait for Mr. Smith between and , for the purpose of taking him out of the hands of the officers who might have him in Custody, and murdering him, is like many other marvellous stories that you hear in reference to him— not one word of it true, but I doubt not that your mind has been continually harrowed up with the fears produced by that, and other equally groundless stories— that that statement is true is next to impossible, and your own judgment, if you will but give it scope will soon set you right in reference to it. [HC 5:154] if any of the Citizens of had designed to Murder Mr. Smith they would not have been so simple as to perpetrate the crime in , when he would necessarily be required to pass through to the interior of the State of , where the opportunity would have been so much better, and the prospect of escape much more certain— that is like the statement made by Mr. Smith's first Messenger after his arrest to Messrs. and , saying that I had stated that Mr. Smith should be surrendered to the authorities dead or alive— not one word of which was true. I have not the most distant thought that any person in or contemplated personal injury to Mr. Smith by violence in any manner whatever. I regret that I did not see when last at , a previous engagement upon business that could not be dispensed with prevented, and occupied my attention that evening until dark. At half past one o'clock P.M. I came home and learned that the had called to see me— but the hurry of business only allowed me about ten minutes time to eat my dinner and presuming if he had business of any importance, that he would remain in the until I returned. It may be proper here in order to afford you all the satisfaction in my power to reply to a question propounded to my Wife by in referrence to Mr. Smith. viz— whether any other, or additional demand had been made upon me by the of for the surrender of Mr. Smith I answer none, no change whatever has been made in the proceedings— Mr. Smith is held accountable only, for the charge as set forth in my warrant, under which he was
——
arrested. In conclusion you presume upon my own knowledge of Mr. Smith's innocence [p. 1397]