Home

>
Letterbook 2
Source Note

JS Letterbook 2, [1839–ca. summer 1843]; handwriting of , , , , , , and ; 245 pages of letters, plus 26 pages of index and 83 pages of company records for Rigdon, Smith & Co.; JS Collection, CHL. Includes redactions.

This letterbook was inscribed in a large, commercially produced ledger book measuring 14¼ × 9½ × 1¾ inches (36 × 24 × 4 cm) with leather-covered boards and pastedowns of marbled paper with grey body and blue and red veins. The letterbook contains endpaper in the front and back of the volume and twenty-four gatherings of 10 leaves each, except for the last gathering, which contains 8 leaves, for a total of 238 leaves. The leaves, which measure 13½ × 8⅞ inches (34 × 23 cm), are ruled vertically with eight single red lines and three interspersed red double lines and horizontally with thirty-nine blue lines and one red double line at the bottom or top of the page, depending on the way the ledger sits. The book was originally used as a financial ledger for Rigdon, Smith & Co., beginning in September 1836; eighty-three pages were paginated and inscribed with account information for customers of that firm. In April 1839, the book was inverted and repurposed as a letterbook; the back of the book for the mercantile firm was used as the front of the letterbook. The cover of the letterbook side bears a handwritten title: "Letters &c. | 1839 | AD." The title page contains the inscription "Copies of Letters, &c. &c. | 1839, AD." The spine of the book has a strip of red leather imprinted with "LEGER" in gilt lettering. A paper label from the Church Historian's Office was attached to the spine; the label reads "LETTER 1838–43" with "LETTER" stenciled or hand-printed. The right side of the label is uneven, brittle, and apparently incomplete. The original inscription was probably "LETTERS | 1838–43".

Pagination began anew with the letterbook, which contains 245 pages of inscribed letters. Apparently, in 1839 used adhesive wafers to tip in a single leaf between pages 7 and 10. The leaf, containing copies of two 1839 letters, is no longer attached and apparently not extant; however, the letters it contained are included in the volume's first index. numbered the pages he inscribed, starting with 0 and ending with 74. After died in November 1839, became JS's scribe and paginated the remainder of the book, from page 75 to 475. created the first index for the volume on page 472, listing the contents of pages 0–13. also created a second, larger index, spanning pages 370–392; this index includes twelve hand-cut index tabs, each containing two hand-printed letters in alphabetical order, with the last tab containing "W" and "Y".

The letterbook contains a mix of contemporaneous letters, earlier letters, church organizational records, and church business records. The first documents were inscribed by , who was hired by JS to "write for the Church" after JS and others escaped from imprisonment in and reunited with the Saints in on 22 April 1839. It is likely that began inscribing documents into the letterbook in late April, although the exact date is not known. The first several entries in the letterbook are copies of letters that JS or others apparently received while imprisoned in from late 1838 to spring 1839. On pages 7–15, inscribed copies of May 1839 letters between JS and church leaders in and , Illinois, apparently soon after they were written or received. Several of the documents copied next were created during JS's imprisonment and relate to the 1838 Missouri difficulties or to 's plans to seek redress from the federal government for the Saints' losses and mistreatment in . Pages 35–40 contain Smith family correspondence from April 1837 and April 1839. Beginning on page 52, Mulholland copied another section of earlier letters, including a letter written on 29 July 1833 by , with a postscript by , to and JS; a 4 June 1834 letter from JS to ; and a 17 June 1829 letter from Jesse Smith to . Following these letters are three 1837–1838 letters relating to dissent in and then a copy of JS's 24 January 1839 petition to the Missouri legislature. may have copied these documents at the time that JS's history began to be written or when the Saints began writing the history of the Missouri troubles, per JS's instructions in March and May 1839. After these documents, the recording of contemporaneous letters continued until February 1843, interrupted only when inscribed minutes from three church meetings held in April and May 1839 onto pages 138–144, between entries for April and May 1840.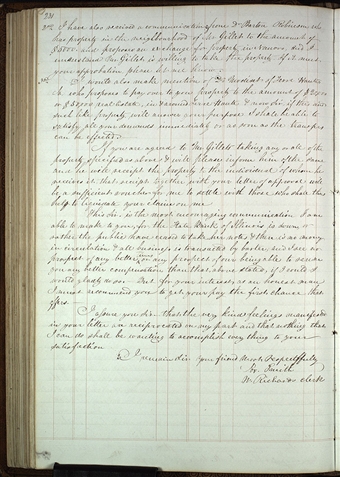 <​2
nd

.
​> I have also received a communication from D
r
Barton Robinson who has property in the neighbourhood of to the amount of $5,000. and proposes an exchange for property in , and I understand is willing to take the property. If it meets your approbation, please let me know.
<​3
rd

.
​> I would also make mention of D
r
Modiset of , Ia, who proposes to pay over to you property to the amount of $20,000 or $50,000 real Estate, in & around & now Sir, if this and such like property will answer your purpose I shall be able to satisfy all your demands immediately or as soon as the transfers can be effected.—
If you are agreed to s taking any or all of the property specified as above & will please inform him of the same and he will receipt the property to the individual of whom he receives it, that receipt together with your letter of approval will be a sufficient voucher for me to settle with those who shall thus help to liquidate your claims on me
This Sir, is the most encouraging communication I am able to make to you, for the State Bank of is down, or rather the public have ceased to take her notes & there is no money in circulation & all business is transacted by barter; and I see no prospect of any better <​times​> or any prospect of our being able to render you any better compensation than that above stated, if I could I would gladly do so.— But for your interest, as an honest man I must recommend you to get your pay the first chance that offers.—
I assure you Sir— that the very kind feelings manifested in your letter are reciprocated on my part and that nothing that I can do shall be wanting to accomplish every thing to your satisfaction
I remain Sir your friend Most Respectffully
Jos. Smith
clerk [p. 231]
2
nd
. I have also received a communication from Dr Barton Robinson who has property in the neighbourhood of to the amount of $5,000. and proposes an exchange for property in , and I understand is willing to take the property. If it meets your approbation, please let me know.
3
rd
. I would also make mention of D
r
Modiset of , Ia, who proposes to pay over to you property to the amount of $20,000 or $50,000 real Estate, in & around & now Sir, if this and such like property will answer your purpose I shall be able to satisfy all your demands immediately or as soon as the transfers can be effected.—
If you are agreed to s taking any or all of the property specified as above & will please inform him of the same and he will receipt the property to the individual of whom he receives it, that receipt together with your letter of approval will be a sufficient voucher for me to settle with those who shall thus help to liquidate your claims on me
This Sir, is the most encouraging communication I am able to make to you, for the State Bank of is down, or rather the public have ceased to take her notes & there is no money in circulation & all business is transacted by barter; and I see no prospect of any better times or any prospect of our being able to render you any better compensation than that above stated, if I could I would gladly do so.— But for your interest, as an honest man I must recommend you to get your pay the first chance that offers.—
I assure you Sir— that the very kind feelings manifested in your letter are reciprocated on my part and that nothing that I can do shall be wanting to accomplish every thing to your satisfaction
I remain Sir your friend Most Respectffully
Jos. Smith
clerk [p. 231]