History, 1838–1856, volume E-1 [1 July 1843–30 April 1844]
Source Note

JS, History, 1838–1856, vol. E-1, created 20 Aug. 1855–5 Apr. 1856; handwriting of Robert L. Campbell, , and Jonathan Grimshaw; 392 pages, plus 11 pages of addenda; CHL. This is the fifth volume of a six-volume manuscript history of the church. This fifth volume covers the period from 1 July 1843 to 30 Apr. 1844; the remaining five volumes, labeled A-1, B-1, C-1, D-1, and F-1, continue through 8 Aug. 1844.

Historical Introduction

The 391 pages of volume E-1 document a crucial period of JS's life and the history of the church. Important events recorded here include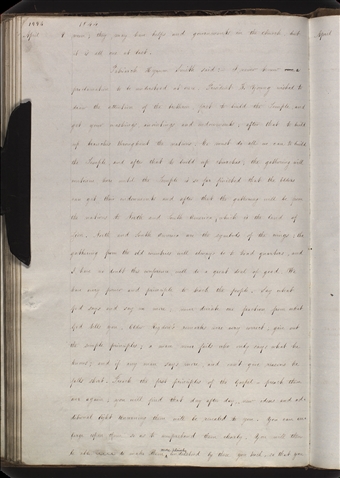 <​April 9​> men; they may have helps and governments in Church, but it is all one at last.
Patriarch said:—
I never knew
one
<​a​> proclamation to be understood at once. President wished to draw the attention of the brethren, first to build the , and get your washings, anointings and endowments; after that to build up branches throughout the nations. We must do all we can to build the , and after that to build up Churches; the gathering will continue here until the is so far finished that the Elders can get their endowments and after that the gathering will be from the nations to North and South America, which is the land of Zion. North and South America are the symbols of the wings; the [HC 6:322] gathering from the old countries will always be to head quarters, and I have no doubt this conference will do a great deal of good. We have every power and principle to teach the people. Say what God says and say no more; never deviate one fraction from what God tells you. 's remarks were very correct; give out the simple principles; a man never fails who only says what he knows; and if any man says more, and can't give reasons he falls short. Preach the first principles of the Gospel— preach them over again; you will find that day after day, new ideas and additional light concerning them will be revealed to you. You can enlarge upon them so as to comprehend them clearly. You will then be able
——
to make them <​more plainly​> understood by those you teach, so that you [p. 1994]
April 9 men; they may have helps and governments in Church, but it is all one at last.
Patriarch said:—
I never knew a proclamation to be understood at once. President wished to draw the attention of the brethren, first to build the , and get your washings, anointings and endowments; after that to build up branches throughout the nations. We must do all we can to build the , and after that to build up Churches; the gathering will continue here until the is so far finished that the Elders can get their endowments and after that the gathering will be from the nations to North and South America, which is the land of Zion. North and South America are the symbols of the wings; the [HC 6:322] gathering from the old countries will always be to head quarters, and I have no doubt this conference will do a great deal of good. We have every power and principle to teach the people. Say what God says and say no more; never deviate one fraction from what God tells you. 's remarks were very correct; give out the simple principles; a man never fails who only says what he knows; and if any man says more, and can't give reasons he falls short. Preach the first principles of the Gospel— preach them over again; you will find that day after day, new ideas and additional light concerning them will be revealed to you. You can enlarge upon them so as to comprehend them clearly. You will then be able
——
to make them more plainly understood by those you teach, so that you [p. 1994]
Document Information

Editorial Title

History, 1838–1856, volume E-1 [1 July 1843–30 April 1844]

ID #

8112

Total Pages

448

Handwriting on This Page