Home

>
History, 1838–1856, volume E-1 [1 July 1843–30 April 1844]
Source Note

JS, History, 1838–1856, vol. E-1, created 20 Aug. 1855–5 Apr. 1856; handwriting of Robert L. Campbell, , and Jonathan Grimshaw; 392 pages, plus 11 pages of addenda; CHL. This is the fifth volume of a six-volume manuscript history of the church. This fifth volume covers the period from 1 July 1843 to 30 Apr. 1844; the remaining five volumes, labeled A-1, B-1, C-1, D-1, and F-1, continue through 8 Aug. 1844.

Historical Introduction

The 391 pages of volume E-1 document a crucial period of JS's life and the history of the church. Important events recorded here include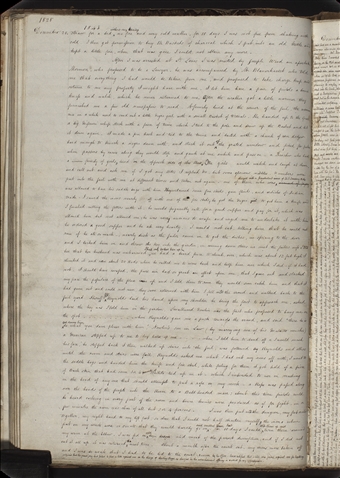 <​December 25​> straw for a bed <​without any bedding​> no fire and very cold weather, for 18 days I was not free from shaking with cold. I then got permission to buy 1½ Bushels of charcoal which I put into an old kettle and kept a little fire, when that was gone I could not obtain any more.
After I was arrested at I was visited by Joseph Wood an apostate Mormon, who professed to be a Lawyer, he was accompanied by Mr Blanerhasset who told me that everything I had would be taken from me, and proposed to take charge keep and return to me any property I might have with me. I let him have a pair of pistols a bowie knife and watch, which he never returned to me. After the weather got a little warmer they furnished me a few old newspapers to read. A family lived at the corner of the Jail, the woman once in a while used to send out a little Negro girl with a small Basket of Victuals. She handed up to the Grate a big whip stock with a piece of twine which I tied to the pole and drew up the Basket and let it down again. I made a pin hook and tied to the twine and baited with a chunk of corn dodger hard enough to knock a negro down with, and stuck it out <​of​> the grated window and fished for pukes when passers by came along they would stop and gawk at me awhile and pass on— a Preacher who had a
——
family of girls, lived on the opposite <​side of the Street.​> The girls would watch and laugh at them, and call out and ask me if I got any Bites I replied no, but some glorious nibbles. [HC 6:136] Numbers were put into the Jail with me at different times and taken out again— one of them who was <​charged with a fraudulent issue of U.S. Treasury Notes​>
accused of forgery
was allowed to have his saddle bags with him
It
<​They​> contained some fire steels, gun flints, and articles of Indian trade— I sawed the irons nearly
all
off with one of the fire steels, he got the Negro <​girl​> to get him a knife and I finished cutting the fetters with it— he would frequently call for a good supper and pay for it, which was allowed him but not allowed me, he was very anxious to escape and urged me to undertake it with him he ordered a good supper and he ate very hearty. I would not eat, telling him that he could not run if he ate so much—, nearly dusk as the Jailor came in to get the dishes, we sprang to the door and I locked him in and threw the key into the garden, in coming down stairs we met the Jailors wife I told her that her husband was unharmed, <​I had only locked him up—​> we had a board fence to climb over, which was about 12 feet high I climbed it and ran about 20 Rods when he called me to come back and help him over which I did— if I had not, I should have escaped, the pure air had so great an effect upon me, that I gave out and slacked my pace the populace of the place came up and I told them to run they would soon catch him and that I had given out and could not run, they soon returned with him I fell in <​to​> the crowd and walked back to the Jail yard. Sheriff laid his hand upon my shoulder he being the first to approach me, asked where the key was I told him in the garden, Smallwood Nowlin was the first who proposed to hang me on the spot
——
when gave me a push towards the crowd, and said "there he is <​God damn him,​> do what you dam please with him," Nowlin's son in Law (by marrying one of his Mulato wenches) a Mexican stepped up to me to <​lay hold of me
——
​> when I told him to stand off or I would mash his face, he stepped back I then walked up stairs into the Jail, was followed by and others until the room and stairs were full, asked me what I had cut my irons off with, I went to the saddle bags and handed him the knife and fire steel, while feeling for them I got hold of a piece of Buck skin that had some 3 or 4 <​pounds of​> Bullets tied up in it— which I intended to use in mashing in the head of any one that should attempt to put a rope on my neck— a Rope was passed along over the heads of the people into the Room to a Bald headed man; about this time pistols could be heard cocking in every part of the room and bowie knives were produced as if for fight, in a few minutes the room was clear of all but 3 or 4 persons. [HC 6:137] I was then put in <​to​> the dungeon, my feet ironed together, my right hand to my left foot, so close that I could not half straiten myself, the irons when put on my wrists were so small that they would hardly go on <​and swelled them, but​> in 18 days I could <​slip them up and​> turn them around my arm at the Elbow. I was fed on <​cold​> Corn <​dodger​> and meat of the poorest description, and if I did not eat it all up, it was returned <​the​> next time. About a month after the court sat, my irons were taken off and I was so weak that I had to be led to the court room by the officer. <​I was notified that a bill was found against me for breaking jail, and that the grand jury had failed to find a bill against me on the charge of shooting , as charged in the advertisement offering a reward for my apprehension.​> [p. 1828]
December 25 straw for a bed without any bedding no fire and very cold weather, for 18 days I was not free from shaking with cold. I then got permission to buy 1½ Bushels of charcoal which I put into an old kettle and kept a little fire, when that was gone I could not obtain any more.
After I was arrested at I was visited by Joseph Wood an apostate Mormon, who professed to be a Lawyer, he was accompanied by Mr Blanerhasset who told me that everything I had would be taken from me, and proposed to take charge keep and return to me any property I might have with me. I let him have a pair of pistols a bowie knife and watch, which he never returned to me. After the weather got a little warmer they furnished me a few old newspapers to read. A family lived at the corner of the Jail, the woman once in a while used to send out a little Negro girl with a small Basket of Victuals. She handed up to the Grate a big whip stock with a piece of twine which I tied to the pole and drew up the Basket and let it down again. I made a pin hook and tied to the twine and baited with a chunk of corn dodger hard enough to knock a negro down with, and stuck it out of the grated window and fished for pukes when passers by came along they would stop and gawk at me awhile and pass on— a Preacher who had a
——
family of girls, lived on the opposite side of the Street. The girls would watch and laugh at them, and call out and ask me if I got any Bites I replied no, but some glorious nibbles. [HC 6:136] Numbers were put into the Jail with me at different times and taken out again— one of them who was charged with a fraudulent issue of U.S. Treasury Notes was allowed to have his saddle bags with him They contained some fire steels, gun flints, and articles of Indian trade— I sawed the irons nearly off with one of the fire steels, he got the Negro girl to get him a knife and I finished cutting the fetters with it— he would frequently call for a good supper and pay for it, which was allowed him but not allowed me, he was very anxious to escape and urged me to undertake it with him he ordered a good supper and he ate very hearty. I would not eat, telling him that he could not run if he ate so much—, nearly dusk as the Jailor came in to get the dishes, we sprang to the door and I locked him in and threw the key into the garden, in coming down stairs we met the Jailors wife I told her that her husband was unharmed, I had only locked him up— we had a board fence to climb over, which was about 12 feet high I climbed it and ran about 20 Rods when he called me to come back and help him over which I did— if I had not, I should have escaped, the pure air had so great an effect upon me, that I gave out and slacked my pace the populace of the place came up and I told them to run they would soon catch him and that I had given out and could not run, they soon returned with him I fell in to the crowd and walked back to the Jail yard. Sheriff laid his hand upon my shoulder he being the first to approach me, asked where the key was I told him in the garden, Smallwood Nowlin was the first who proposed to hang me on the spot
——
when gave me a push towards the crowd, and said "there he is God damn him, do what you dam please with him," Nowlin's son in Law (by marrying one of his Mulato wenches) a Mexican stepped up to me to lay hold of me
——
when I told him to stand off or I would mash his face, he stepped back I then walked up stairs into the Jail, was followed by and others until the room and stairs were full, asked me what I had cut my irons off with, I went to the saddle bags and handed him the knife and fire steel, while feeling for them I got hold of a piece of Buck skin that had some 3 or 4 pounds of Bullets tied up in it— which I intended to use in mashing in the head of any one that should attempt to put a rope on my neck— a Rope was passed along over the heads of the people into the Room to a Bald headed man; about this time pistols could be heard cocking in every part of the room and bowie knives were produced as if for fight, in a few minutes the room was clear of all but 3 or 4 persons. [HC 6:137] I was then put in to the dungeon, my feet ironed together, my right hand to my left foot, so close that I could not half straiten myself, the irons when put on my wrists were so small that they would hardly go on and swelled them, but in 18 days I could slip them up and turn them around my arm at the Elbow. I was fed on cold Corn dodger and meat of the poorest description, and if I did not eat it all up, it was returned the next time. About a month after the court sat, my irons were taken off and I was so weak that I had to be led to the court room by the officer. I was notified that a bill was found against me for breaking jail, and that the grand jury had failed to find a bill against me on the charge of shooting , as charged in the advertisement offering a reward for my apprehension. [p. 1828]